Is this the bargain of the century or what? The new Chrysler 300 SRT8 'Core' is a slightly scaled back version of the thumping SRT8 we all love, with a price tag that's nearer to a hot hatch than a large high performance sedan.
No other car on the market at the moment gets near this in terms of power for the money. It comes with the same 6.4-litre HEMI V8 as the regular version, producing 347kW and 631Nm, and it shows off the same super-fat stance and muscular body.
It does miss out on some of the luxury creature comforts and some of the fancy exterior trimmings, but when you're driving around in the most powerful sub-$100k naturally aspirated V8 currently on the market, you're not going to be too worried.
Prices start at just $56,000, which is actually the same price as the 300C Luxury CRD diesel. This makes it $10,000 cheaper than the regular SRT8.
2013 Chrysler 300 SRT8 Core – THE SPECS
Engine: 6.4-litre V8 with cylinder-deactivation
Output: 347kW@6100rpm / 631Nm@4150rpm
Transmission: Five-speed auto
Drive type: Rear-wheel drive
Wheels: F: 20×9.0, 245/45  R: 20×9.0, 245/45
ANCAP: Not tested
Kerb weight: 2012kg
Power-to-weight: 5.79:1 (kg:kw)
Official fuel economy: 13.0L/100km
Economy during test: 14.5L/100km
Fuel capacity/Type: 72L/91 RON minimum
Power efficiency: 25.7kW:L/100km
0-100km/h as tested: 4.9 seconds
Priced from: $56,000
2013 Chrysler 300 SRT8 Core – THE PACKAGE
You aren't exactly presented with a luscious leather interior when you open the door, like in the full-cream SRT8. Instead, you get fairly boring yet puffy sports seats covered in mono-tone grey cloth. Most of the upholstery including the door trims and roofline is also modest, with no fifty shades of grey being used to provide depth and character.
The cabin environment is airy and open, with loads of room in the front and back. Most American cars have a huge centre console armrest, with a big gap in between the front seats. The 300 is the same. There's a huge distance between the driver and the passenger. It's cool. And with that retro 'chop-top' style roof, you're immediately aware that you're in a modern day street machine.
Like the rest of the latest 300 range, the Core is a pleasant place to be with plenty of modern conveniences. If you look to the dash you'll see dual-zone climate control with rear zone control, elegant blue-lighting for the much-improved instrument cluster, and an 8.4-inch Uconnect touch-screen infotainment display including a six-speaker stereo system with Bluetooth and USB connectivity and DVD playback.
The standard Uconnect system comes with the very cool SRT performance menus with acceleration timers, braking timers, and live engine output and g-force gauges. Satellite navigation is a $1000 option – a feature that is standard on the regular SRT8. The regular SRT8 also gets a pumping 19-speaker stereo with a sub-woofer in the boot.
Aside from the things you miss out on, the Core does come with a lot of standard features too. There's the same discreet bodykit on the outside with a lip spoiler on the boot, lowered sports suspension, 20-inch rollers, four-piston front and rear Brembo brakes, automatic wipers and bi-xenon headlights, and power front seats.
Since the major overhaul last year, all 300 variants are now much more refined and quiet to drive. There are no immediate creaks or rattles from cabin fittings and furniture, and most of the switchgear is either coated in a soft-touch surface or made from soft rubber. For this price bracket, the quality standards are more than acceptable.
2013 Chrysler 300 SRT8 Core – THE DRIVE
Although you might assume the engine is an old-school donk and therefor void of any high-tech technology, being a massive 6.4 litres in capacity, it does come with variable valve timing and cylinder-deactivation.
With these systems, fuel economy can be reduced by 5-20 per cent according to Chrysler. Does it work in the real world? Yes, it's actually the best cylinder-deactivation system we've come across. If you drive like a granny you can achieve fairly reasonable consumption, and the transition from four to eight cylinders is a smooth, almost unnoticeable one. We averaged 14.5L/100km during our week with the car.
For anyone who has driven an old street machine or a hot rod, this is the kind of in-car theatre the 300 SRT8 brings. It thumps like a Summernats Burnout King when you give it some, and rumbles along on the overrun. In that respect, it is a genuine modern day muscle car. These traits are amplified on this test car thanks to an optional Mopar exhaust system and cold-air intake setup.
Speaking of the engine sound, with the optional Mopar exhaust, the SRT Core sounds silky smooth, giving off a very clean V8 growl. There's no fan noises or overly muffled induction or exhaust ruffles. Revs simply burst out from idle to redline in no time, which is partly thanks to a relatively high 10.9:1 compression ratio. Some crisp crackles and pops on the overrun let you know you're literally playing with fire. It's not overly crackly though, as some have criticised the FPV GT's exhaust. Instead, this gives off a deep, sexy baritone note.
The five-speed auto suits the cruisey nature of the 300, however, we can't help but think the theatrical driving character could be enhanced that little bit more with an advanced auto. Unfortunately, the five-speeder doesn't blip the throttle on the downshifts, which is a shame because you could really frighten the hell out of pedestrians on a sidewalk if you wanted to.
If the SRT8 had the company's new eight-speed auto, featured in the latest Jeep Grand Cherokee SRT, the drive would be even more energetic, with punchier response. On the other hand, the huge torque from the 6.4 V8 has absolutely no trouble hauling through gears – any gear – no matter what the situation.
In the corners is where the whole driving experience becomes a bit awkward. It's got the finesse of a ballerina with a sprained ankle when it comes to finger-tip steering control and agility. All of the competition can manage corners better than this beast. The car does show signs of aftershock on corner exit, and if you hit a nasty bump mid-corner, it's certainly brought to your attention.
Does it detract from the overall driving appeal though? Of course not. Once corners are over you can enjoy that brutal V8 engine singing like a tenor once again. It's here where the 300 shines.
Using the on-board SRT computer we timed 0-100km/h in 4.9 seconds and a quarter mile in 12.9 seconds. Both of these times are capable of attracting profuse praise, and not just in this segment. Strangely, we couldn't match the regular SRT8's 0-100km/h time of 4.4 seconds, which we tested last year.
This car belongs down at the beach on a perfect weekend afternoon. It owns the esplanades, especially when day turns to night. The purring V8 lets everybody know who's boss, and the broad Bentley-like stance has the ability to make you and your passengers feel quite special. Just looking back at that price, we can't think of many cars that can offer this – and that includes the more expensive and/or less powerful Aussie sedans.
2013 Chrysler 300 SRT8 Core – THE VIDEO
2013 Chrysler 300 SRT8 Core – THE VERDICT
We would love to see the eight-speed auto introduced here. It would bring down the highway cruising revs – currently around 2000rpm-plus at 100km/h – to help save fuel. More ratios would also divide up the huge reserves of torque, improving cross country performance and potentially driver enjoyment. The driving dynamics also deserve some attention.
Even so, the rest of the car is a beauty. Anyone with even the slightest bit of octane running in their blood will be thoroughly amused by the V8 thunderstorm under the bonnet; it tickles you in all of the right places. And with the retro street machine looks, it's pure, unadulterated US muscle.
$56,000? We'll take two.
PROS:
– Awesome V8 grunt and soundtrack, most powerful sub-$100k NA sedan on the market
– Starting price; $56,000
– SRT performance functions/menus
– Well packaged with lots of standard goodies
– Modern muscle car design

CONS:
– Firm suspension
– Handling dynamics not up to the power of the engine
– Touchy brakes; pedal sits too high
– Five-speed auto in need of update/refinement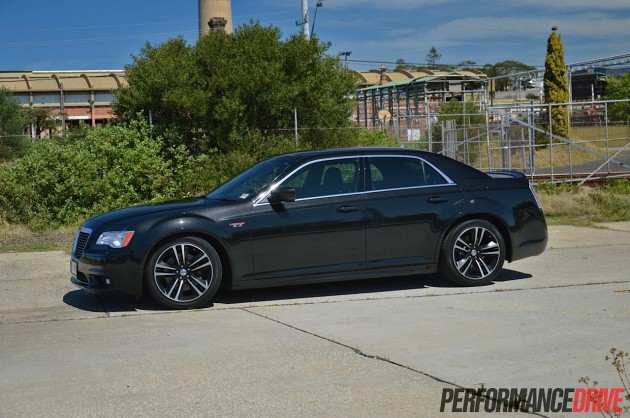 2013 Chrysler 300 SRT8 Core – THE COMPETITORS
FPV GS auto (manual available)
5.0-litre supercharged V8 – 315kW-545Nm – 13.7L/100km – 1781kg – from $57,870
HSV Clubsport auto (manual available)
6.2-litre V8 – 325kW-550Nm – 12.9L/100km – 1732kg – from $73,290