Subaru has been spotted testing what appears to be a prototype version of the next-gen 2014 Subaru WRX, potentially the hot STI version. As far as we know, this is the first time such a prototype has been captured on film.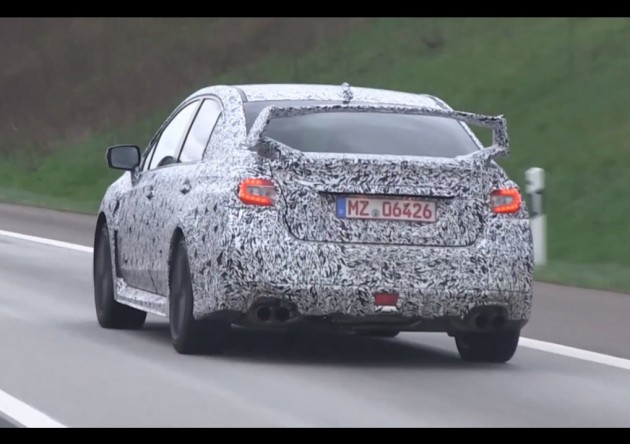 As you can see in the video, which has just surfaced on YouTube via WorldCarFans, the prototype features a similar body style to the current Impreza sedan. Distinct WRX highlights include the whopping rear wing, the trademark bonnet scoop, and the quad-outlet exhausts at the back.
Subaru revealed a dramatic concept version of the next-gen WRX earlier this year. It was an exciting concept, showcasing a wider and lower stance compared with the regular Impreza, as well as a number of concept-esque finer details.
Although the finer details, such as the thin side cameras instead of side mirrors, are not expected to make production, judging by this prototype at least, much of the low and aggressive body style won't be carried over for the production car either.
This prototype appears to incorporate the regular Impreza body, albeit with some decently pumped wheel arches. There's a chance this may not be the high performance STI version. If it is not the STI, maybe Subaru is planning something more special for that.
It is only early days though, and Subaru is yet to confirm/reveal what the car will look like.
Under the bonnet, details are a little hazy as well. A turbocharged version of the new 2.0-litre boxer engine from the BRZ is expected, adopting its advanced direct injection setup. Power levels are likely to be bumped up somewhat over the current 195kW rating (221kW for the STI).
A full unveiling may take place at the 2013 Tokyo Motor Show in November. Click play below for a preview.