What appears to be a scan of an official brochure for the highly-anticipated Toyota Supra has surfaced online, giving us a sneak peek of the front end and confirming some details.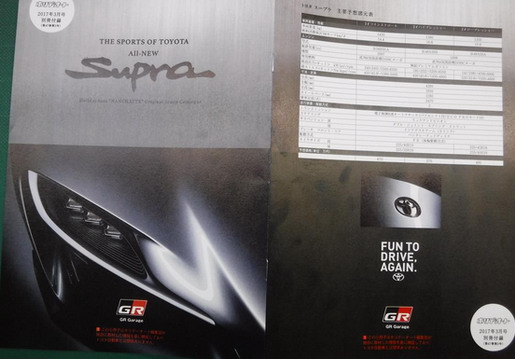 The brochure scan was first published by Russian website Auto.Blog.rs, and it confirms there will be three engine options available, at least in some market regions.
Kicking off the range is a 2.0-litre turbo-petrol four-cylinder producing 141kW and 320Nm, followed up by a 185kW and 400Nm tune. At the top of the range is a 3.0-litre inline six turbo producing 250kW and 450Nm.
We already know Toyota and BMW have teamed up to produce the next-gen sports cars, with BMW set to use the same platform for its next-gen roadster known as the Z5. Up until now, Toyota was yet to confirm the 'Supra' name, but, if this brochure is official, the name will indeed be revived.
Just glancing at these figures we can see these are very similar to a range of BMW engines. In the 320i, for example, a 2.0-litre turbo develops 135kW, with the 330i producing 185kW. The 340i, meanwhile, generates 240kW from a 3.0L turbo inline six.
Interestingly, there is no mention of a hybrid option. It was heavily speculated but strongly believed Toyota would be utilising its extensive hybrid technology for the new sports car.
Also confirmed in the scan are some external dimensions. It measures 4380mm in length, 1830mm in width, and stands just 1280mm tall. For comparison, the Toyota 86 respective measurements are: 4240mm, 1775mm, and 1320mm tall.
We suspect more details will be revealed very soon, especially if this brochure is legitimate. The last we heard Toyota was planning to unveil a concept version at the Tokyo motor show in October.