The official Ford Australia website seems to have confirmed there is an "ultimate Falcon" coming soon, expected to be the much-rumoured XR 'Sprint' models.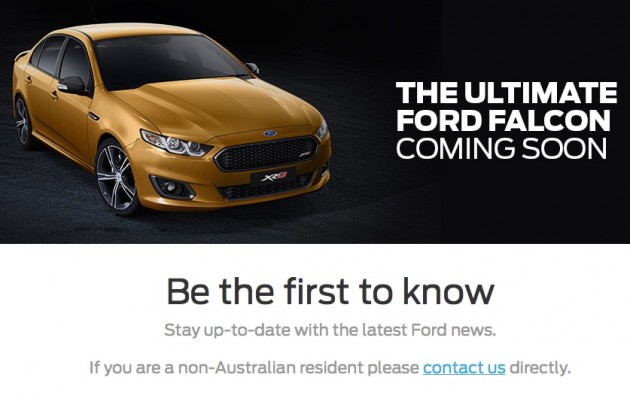 Rumours of a last hurrah performance Falcon spread like wildfire last month. PerformanceDrive asked Ford's communications department if there was a special edition on the way, to which the reply was simply, "no".
Last week, it was discovered Ford had applied for trademarks for the names 'XR6 Turbo Sprint' and 'XR8 Sprint'. It doesn't take a genius to put the pieces together and come up with a conclusion here. Ford is set to introduce at least one line of special edition Falcons.
The Ford Falcon will go out of production for good in 2016. That's just one year until there is no more Falcon. It would seem disrespectful and even commercially silly not to release some kind of last hurrah for the fans, as all examples would probably be snapped up quite fast.
While we have no further confirmation on specifications at this point, the obvious speculation points to a revival of the 310kW F6 engine and the 351kW V8 from last year's GT F.
Whatever it ends up being, Ford is expected to introduce it before the end of the year to allow for plenty of time to wind down production and gather up plenty of sales. We'll be sure to keep you updated with any more news that we hear.
UPDATE: Brand communication manager at Ford Australia Neil McDonald contacted PerformanceDrive. He seemed frustrated by the speculation and had this to say:
"The story is incorrect and needs to be corrected. Ford has not confirmed anything. The website 'saver' is actually referring to the XR8 introduction and was designed for customers seeking more information on the XR8 – which is clearly outlined in the photo.
"While there is a lot of speculation around and several stories written about the Falcon, as you know, we do not comment on speculation."
Thanks for the tip, BrianDH