Chevrolet has announced a significant price drop in the US for its most efficient and fastest Volt yet, with most of the added value coming in the form of government incentives.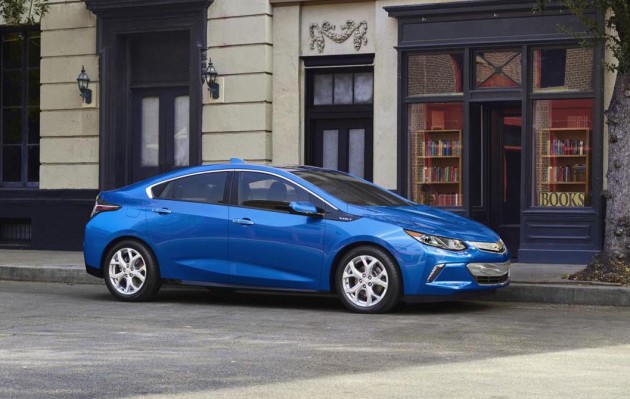 The facelifted 2016 Volt starts at US$33,995, already $1200 less than its predecessor. When a buyer in the US applies for the maximum tax credit on the Volt, the price drops by $7500 down to $26,495. Californian buyers can get one even cheaper thanks to state incentives on green cars, with the price tag going down as low as $24,995.
The 2016 Chevrolet Volt is powered by a 1.5-litre four-cylinder internal combustion engine, mated to an electric motor and an 18.4kWh battery pack. The 0-100km/h time is 7 per cent quicker than its predecessor, at 8.4 seconds. (PerformanceDrive has timed the outgoing model in 9.2 seconds.)
Chevrolet has improved the efficiency of the lithium-ion battery pack by 12 per cent, and made the Volt 45kg lighter, but it still weighs about as much as a military aircraft carrier (around 1680kg).
The Volt can travel on electric power alone for up to 80km, and has a combined range of 676km. A full charge of the battery pack takes around 13 hours from 120V or 4.5 hours using the more potent 240V we have here in Australia.
Unfortunately the new Volt will not be heading to Australia any time soon. GM has confirmed it will no longer make right-hand drive versions. And that's probably a good move considering Holden has sold just seven examples so far this year. Production of the current model has ceased, although there are probably still a few floating around dealerships.