A collection of very rare and highly collectable HDT and HSV Holdens will go up for auction on April 29, as part of the Shannons Autumn Classic in Melbourne. In the mix is a one-of-nine VL Brock HDT Director, a VL Group A SS Walkinshaw, and a VC HDT sedan.
Starting with the Brock HDT Director, this highly sort-after model has a relatively low 71,350km on the clock. Based on the Holden VL Calais of the day, the Director showcases a blend of luxury, high performance, and dashes of innovative engineering.
The VL Commodore only ever came with a live-axle rear suspension layout, while the special Director features an advanced – for the Commodore – independent rear suspension setup to make better use of the engine's power and to assist with performance and handling.
Speaking of the engine, it's a 4.9-litre naturally aspirated V8 producing 223kW. It could be matched up to either a five-speed manual or four-speed automatic transmission, with power feeding into the rear wheels. It's unknown what transmission this example come with.
Holden Dealer Team (HDT) was Holden's motorsport division back in the 1980's, partnered with then Australian touring car driver Peter Brock. Unfortunately, there were some unresolved matters with the Director project and Holden eventually pulled the pin on not only the car, but HDT as an entity. Fortunately, nine versions of this VL Director snuck through production.
As you can appreciate, this example is expected to fetch quite a sum at the auction. According to Shannons, it will likely sell in the $70,000-$85,000 bracket.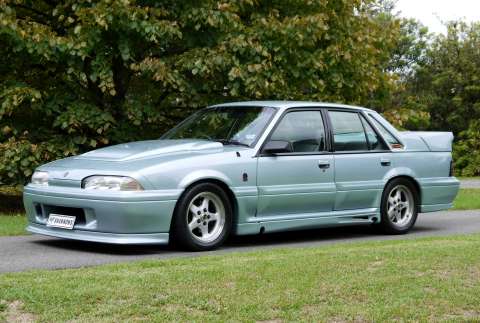 Joining the Director next Monday will be a 1988 Holden VL Group A SS, also known as the Walkinshaw. This was an entirely new project for a new Holden performance division called HSV, a company which is of course still in existence today.
The VL Walkinshaw came with a 4.9-litre naturally aspirated V8 with fuel injection and a twin throttle body layout. It produced 180kW of power, and was matched up to a five-speed manual gearbox.
This example is build number 614 out of 750 that were ever built, and it features 81,000km on the clock. The car is apparently in very original condition, and has been well kept by its current owner for the past nine years. It's expected to fetch between $60,000 and $65,000.
Lastly, for the earlier Commodore fans, a mint 1981 Holden VC Commodore Brock HDT will also go under the hammer next week. It's build number 12 out of 500 and has been owned by the current registration-holder for the past 20 years. It's expected to go for $34,000-$38,000.
If you're in the Melbourne area after the weekend and have always wanted to own an original slice of Australian motorsport and performance car history, this could be your chance. As mentioned, the event will commence on April 29.