Has the electric car revolution arrived? FondTech, an Italian aerodynamics and wind-tunnel testing company in Bologna, has revealed details of its latest project; the FondTech E-11 Formula REV fully electric racing car. The FondTech E-11 is being pitched as the first-ever fully electric single-seat racing series car.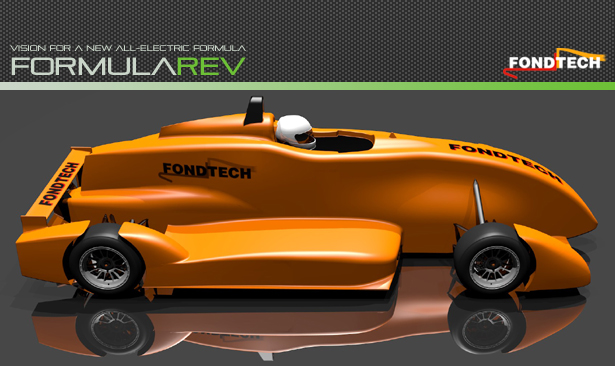 The FondTech E-11 features a Formula 1-like open-wheel layout that has been aerodynamically tuned using a 60 per cent scale model in wind-tunnel testing. The overall weight, and almost every aspect of the FondTech E-11, has been designed to certify with Formula 3 regulations, with a minimum weight of 550kg.
Although an actual working version hasn't been tested on the track yet, FondTech says that the electric motor and transmission has already been engineered, with horsepower levels being placed within the Formula 3 restrictions of around 150kW (200hp).
FondTech also says the FondTech E-11 is designed to meet strict FIA safety standards. Because the FondTech E-11 is fully electric, it has to cart around a series of heavy batteries, something which normal Formula 3 cars don't have to worry about.
FondTech says it has designed the E-11 so that the location of the batteries are distributed low down, throughout the lower chassis. FondTech says the E-11 will pass safety tests and meet all marshal and spectator safety requirements. Jean-Claude Migeot, FondTech managing director, recently said,
"E-11 represents a significant leap forward in racing car design philosophy as the first purpose-built single-seater conceived to run solely on electricity.

"With a reputation built on aerodynamics, this adventure into a new sphere of motorsport has allowed FondTech to develop a concept unencumbered by regulations but at the same time bound by the current level of battery technology. Range and weight were always going to provide our biggest obstacles which is why aero efficiency has played such a key role in this project.

"E-11 also includes a number of innovative features, like four wheel-drive, which we believe are essential to extracting the most potential from electric racing cars. Due to the limitations of existing batteries, and in helping restore motorsport's value as the proving ground of tomorrow's road car technology, it was imperative that our imagination was not restricted. I am hopeful the FIA will appreciate this pioneering spirit when framing their own regulations in the coming months.
The FIA is proposing a new Formula E racing series to begin in 2013. FondTech is planning to have track testing of the FondTech E-11 underway in January 2012 and hopes to have a number of finished products competing in the new Formula A series.
We'll keep you posted on further testing developments, as well as any videos that are released. Click play on the video below for a bit of a preview to the concept in the meantime.