The Mazda and Fiat partnership plan was always to see both companies introduce a sports car based on the new MX-5. We've now heard Fiat may revive the Fiat 124 Spider nameplate for its version.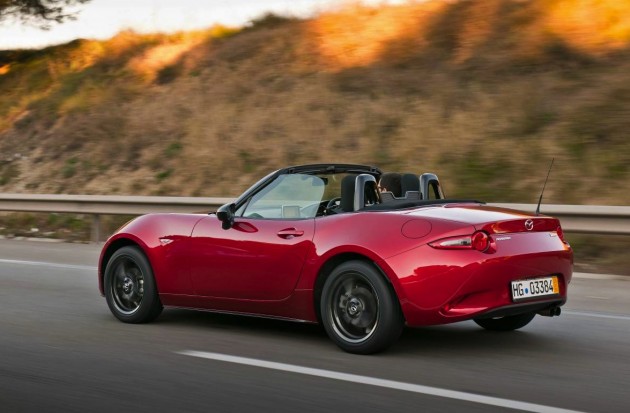 Mazda revealed the new MX-5 last year and it's well and truly ready for production. As for Fiat, there's still a lot to be cleared up, such as the badge it will wear and what Fiat brand it will be sold under. According to a recent Auto Express report in the UK the auto giant has decided it will be a Fiat.
From there, speculation continues. The reports predicts it could wear a Fiat 124 Spider badge, while there's also reason to believe it will be an Abarth-badged vehicle. Either way it isn't likely to feature an Alfa Romeo badge. A company insider confirmed that all future Alfas need to be 100 per cent Italian. Given the Mazda is mostly Japanese, an Alfa badge would be out of the question.
The news is further bolstered by the fact Fiat has registered trademark applications in the US for 'Fiat 124' and 'Fiat 124 Spider' nameplates. Although it can't be taken as absolute confirmation, Fiat obviously wants to reserve these nameplates for something. Fiat hasn't used the 124 Spider name since the 1980s.
As for the specifications and difference compared with the Mazda counterpart, we can expect unique exterior styling with new panels and trimmings possibly harking back to classic Fiat design, and a reworked interior with Fiat-like dials and switchgear.
The stuff under the bonnet is still unclear but reports suggest it will come with its own engine, potentially Alfa Romeo's 1.4-litre MultiAir turbo unit seen in the Alfa Romeo Giulietta. It produces 125kW, which would stomp on Mazda's 96kW output for the base model.
More information is anticipated later in the year with a reveal slated to take place early in 2016. We'll keep you updated.