The all-new B9 Audi A4 was revealed last month in the mundane run-of-the-mill guise. Now we hear reports the S4 performance versions are set to debut at the 2015 Frankfurt Motor Show in a coupe of months.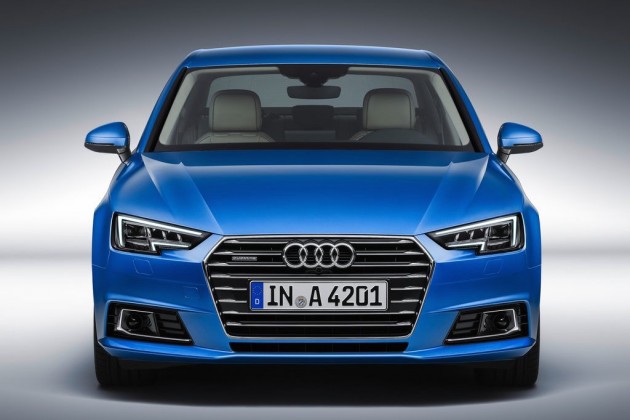 Based on the all-new A4 platform, which is up to 120kg lighter in weight while being larger than the B8 predecessor, the new S4 is set to retain the same 3.0-litre TFSI supercharged V6 engine and quattro all-wheel drive system.
According to a recent Auto Zeitung report in Germany, the Volkswagen Group brand will indeed unveil the new model in full at the Frankfurt show. The publication says the engine will be boosted to around 260kW, up from 245kW, with a big drop in consumption from the current 7.7L/100km average in the sedan and 7.8L/100km in the wagon.
The current 245kW/440Nm sedan, matched to the standard seven-speed dual-clutch automatic, is able to perform 0-100km/h in 5.0 seconds. With added power and potentially reduced weight thanks to the fresh platform, the new model might dip into the four-second range for the first time.
Like the current S4, the 2016 version will come with special sports suspension, a sporty yet subtle bodykit, unique alloy wheels, big brakes, and a bespoke interior with bucket-style seats. The company's new 12.3-inch digital instrument cluster display is likely to be carried across from the regular 2016 A4, along with an 8.3-inch MMI media interface.
Stay tuned for all the details. If history teaches us anything, Audi might pre-reveal the model just before the big event which starts September 15 (media day).