Ferrari has revealed a unique special edition to celebrate the 50th anniversary of Ferrari in Japan. It's called, fittingly, the Ferrari J50.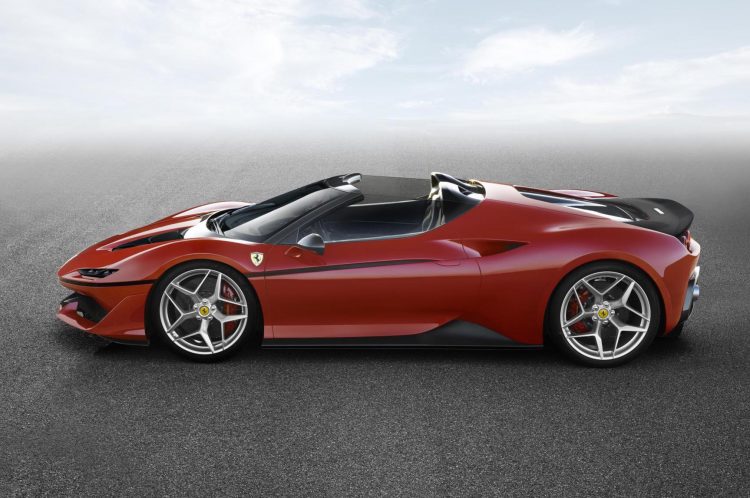 The J50 is based on the 488 Spider, featuring a 3.9-litre twin-turbo V8 engine. Instead of producing the standard 492kW output though, the special edition belts out 509kW of power. There's been no mention of acceleration figures, although, the regular 488 can cover 0-100km/h in just 3.0 seconds.
Aside from the unique engine tune the J50 gets a new exterior design, with a front end inspired by the LaFerrari resulting in a very low slung roadster theme. Ferrari describes the design as encapsulating intrinsic Ferrari values. In a statement, the company said:
"While the 'helmet visor' effect, which spawns from the window graphic, is reminiscent of Ferrari's open competition barchettas going as far back as the 1950s, the black dividing line is a novel interpretation of a recurring Ferrari styling cue seen on iconic models such as the GTO, F40 and F50. Circling around the front of the car below knee height, it is a key element which alters the perception of the beltline, setting it at a much lower height than usual, transforming the J50 into a barchetta."
The J50 showcases 20-inch forged wheels in a unique design, while the rear diffuser is also especially shaped for the limited edition and is inspired by jet engine afterburners. There's also a quad taillight theme and a transparent polycabonate engine cover.
Ferrari is planning to make just 10 examples of the J50, and each will be tailored to each customers' needs in terms of trim and features. Prices haven't been mentioned.