Ferrari has gone all out with a one-off special called the MM based on its last true naturally aspirated V8 screamer; the 458 Speciale.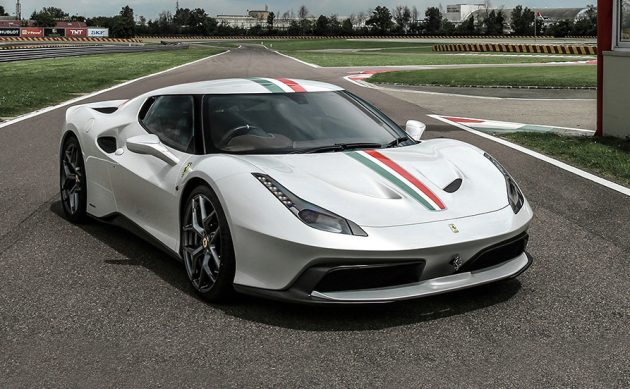 The car is the handywork of Ferrari's Styling Centre, as the company often handles special requests of its most affluent clients.
The 458 MM Speciale, as it's known, differs from the regular Speciale in several key areas. The most notable change is the blackened A-pillar, which gives the roof a 'floating' effect, like the latest Ford GT. It also gives the impression of the car sitting lower than it does.
Aerodynamic enhancements adorn the front bumper, with deeper chin spoilers adding downforce, and a heavier duty spoiler at the rear. Extra cooling is facilitated by modified intake openings.
Paintwork is Bianco Italia, including an Italian flag running along the top end of the car. Bespoke wheels complete the more aggressive appearance compared with the original.
Inside, it is treated to an enhanced audio system, Cioccolato leather and white stitching, plus enhanced satin rings surrounding the buttons in the central concsole.
Ferrari is well-known for many one-off specials, including the SP12 EC which was designed for Eric Clapton and reminiscent of the 512 BB of the 1970s. This car will be going to a British customer.