A number of classic muscle cars will go up for auction through Shannons next month at the Meguiar's MotorEx car show, including an original 'barn find' 1968 Holden Monaro HK GTS 327.
Other classics which will go under the hammer include a 1970 Ford Torino, a 1971 Oldsmobile Cutlass show car, a 1972 Chevrolet Chevelle Coupe SS, and a 1972 Plymouth Barracuda Coupe.
The 1968 Holden Monaro HK GTS 327 has not been registered since 1996, and the engine was rebuilt in the early Nineties. It sits in full original condition, wearing coats of Warwick Yellow paint. It's expected to fetch from $50,000 to $70,000 at the auction.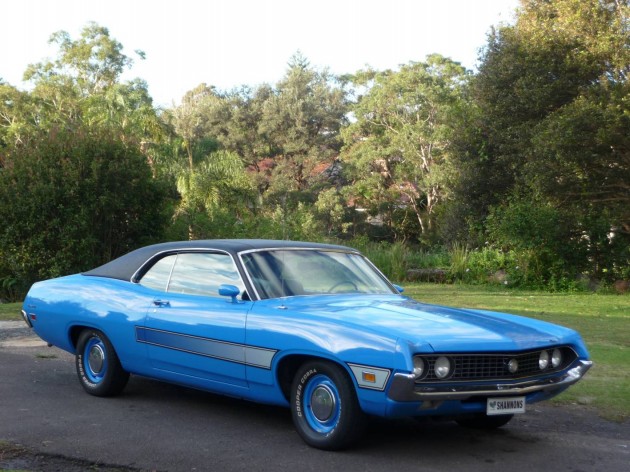 As for the 1970 Ford Torino, it has been completely restored and has apparently covered just 3200km since the restoration. The interior and upholstery is all original and said to be in great condition, with electronics, gauges and even the air-conditioning all working like a charm. It's expected to sell between $28,000 and $34,000.
The 1971 Oldsmobile Cutlass has been modified into a full show car with a Chip Foose-design colour scheme. It features an LS1 fuel injected Chevrolet V8 engine which is pressurised via a Vortec under-bonnet centrifugal-type supercharger. Overall power output has not been mentioned. The engine is backed up by a four-speed auto.
The 1972 Chevrolet Chevelle Coupe SS is a full ground-up rebuild effort. All of the body has been stripped backed to metal and resprayed, while the immaculately presented engine bay features a highly tuned 350ci Chevrolet V8 breathing through a Holley 650 carburettor. It also features a Detroit locker with billet axles, and a TH 350 auto transmission. It's expected to sell between $35,000 and $40,000.
Lastly, the 1972 Plymouth Barracuda Coupe is also a fully restored muscle car. It's more muscly than the rest though, and features a 528ci V8 Ray Barton HEMI crate engine. It's matched up to a Keisler TKO five-speed manual transmission. The interior has been been refurbished while most of the panels have been replaced with perfectly straight brand new items. It's expected to fetch between $58,000 and $64,000.
The 2012 Meguiar MotorEx will take place at the Sydney Olympic Park on the weekend of July 21 and 22.