An all-new supercar going by the name of the Falcon F7 has been unveiled at the 2012 North American International Auto Show in Detroit. The Falcon comes with a low-profile supercar body and tuned Chevrolet LS7 V8 engine.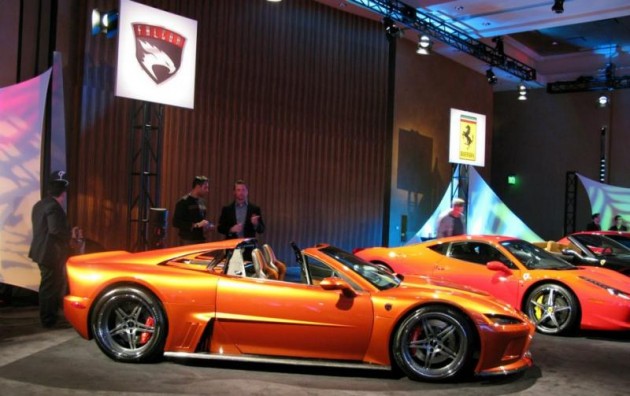 Falcon first announced plans to build a supercar around one year ago, unveiling a concept version of the F7 called the Mach 7. The company has now built a fresh version ready for production.
It features a revised Chevrolet Corvette LS7 7.0-litre V8 engine, with Falcon adding a custom carbon fibre intake manifold with twin plenums –  like a Ferrari – and a set of long runners for the ultimate torque.
Falcon says the mighty engine now produces 462kW of power (up from the factory Chev's 377kW), and 813Nm of torque. It's capable of propelling the 1263kg supercar from 0-100km/h in around 3.6 seconds, and on to a top speed of over 322km/h (200mph).
The Falcon F7 is made mostly of aluminium, with an aluminium welded chassis, while an integrated carbon fibre tunnel runs through the middle. The F7 also features carbon fibre in the floor pan construction and firewall.
Falcon is planning to sell around 15 of the F7s in its first year of production, and then 25 per year after that from its Michigan headquarters, with prices starting at around US$195,000-$250,000 (approximately AU$190K-$243K). Click play on the video below for a quick preview.
(Images courtesy of FalconF7 website)