A teenager wearing disturbingly distasteful shoes lost control and crashed a LaFerrari in Shanghai, China, last night, leaving the poor Ferrari with extensive damage. Unfortunately, it looks like the bright shoes walked away from the incident without damage.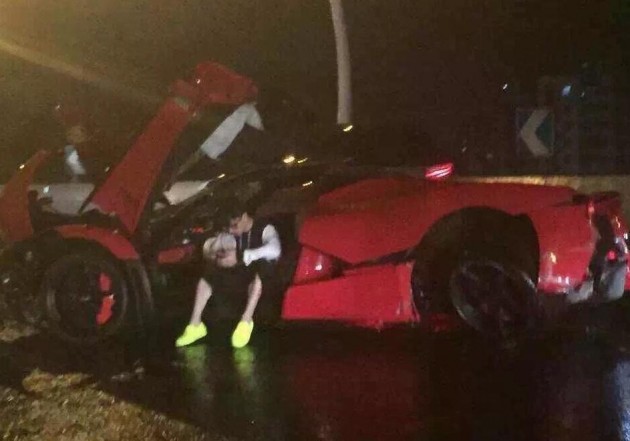 It's understood the driver lost control out on a large freeway in wet conditions, colliding with a barrier and spinning around. The front end took a nasty impact, sending the airbags off, while the rear looks like it smashed up against something hard – at least hard enough to mangle the rear suspension and relocate the hub.
The owner escaped without serious injury. According to a CarNewsChina report the owner also has a McLaren P1, which probably means he is quite well-off. But it's unknown if the Ferrari will be well enough to be repaired to see another day.
To refresh your memory, the LaFerrari comes with a 708kW V12 hybrid engine. The combo sends power to a rear-wheel drive system only. This is obviously a very serious amount of power for a rear-wheel drive car. It would require careful driving, especially in wet conditions.
This is one of the first major LaFerrari smashes we've seen, and it's apparently the first LaFerrari crash in China. Ferrari is only making 499 examples of the car. It's such a shame to see one go to waste like this.