The 2013 Porsche Boxster has been officially revealed overseas. It comes with styling updates, a new 2.7-litre flat six (despite earlier speculation of a turbo four), and more power and acceleration across the range.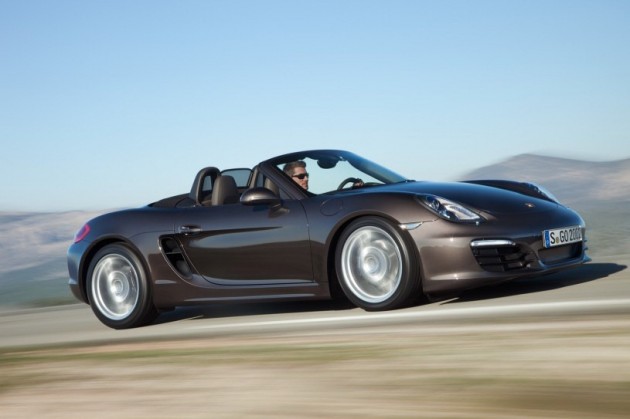 The base model 2013 Porsche Boxster features a new 2.7-litre flat-six engine (down from the current 2.9-litre item), producing 198kW of power (up from the current 188kW). It's able to sprint from 0-100km/h in 5.7 seconds flat (down from 5.8).
For the new 2013 Porsche Boxster S, Porsche has revised the 3.4-litre flat six to develop 235kW (up from the current 228kW, and the same as the Boxster Spyder), while 0-100km/h is now taken care of in just 5.0 seconds (from 5.2).
Both variants with come optional with either a six-speed manual transmission, or a seven-speed PDK dual-clutch automatic with steering-wheel-mounted shifters. Tasty optional extras include a new Sport Chrono Package with a rear mechanical differential lock and Porsche Torque Vectoring.
Not only is the new Boxster quicker, it's also more fuel-efficient. The entry-level achieves a 7.7L/100km fuel consumption rating (Euro cycle – down from 9.1), while the Boxster S consumes 8.0L/100km (down from 9.4) – not bad considering some popular hatchbacks offer similar economy, without the performance.
Styling-wise, the 2013 Porsche Boxster is slightly sharper, slightly more modern compared with the current model. It gets new rectangular headlights with black outlining, and a rear spoiler, which, as speculated, carries a similar design theme as the new Porsche 911, and a deeper side air intake in front of the rear wheels.
More details and full Australian specifications are expected to be released this week. It will go on sale halfway through the year around the world though, and will likely hit Australia showrooms just after. The official debut will take place at the 2012 Geneva Motor Show in March, starting March 6.