The latest round of Insurance Institute for Highway Safety data is in, and the results aren't good for a particular handful of American muscle cars.
The IIHS recently pitted the Ford Mustang, Chevrolet Camaro and Dodge Challenger against each other in a crash test, with none of the trio able to grab the "Top Safety Pick" score. It is also worth noting that the Ford Mustang is yet to undergo official ANCAP safety testing.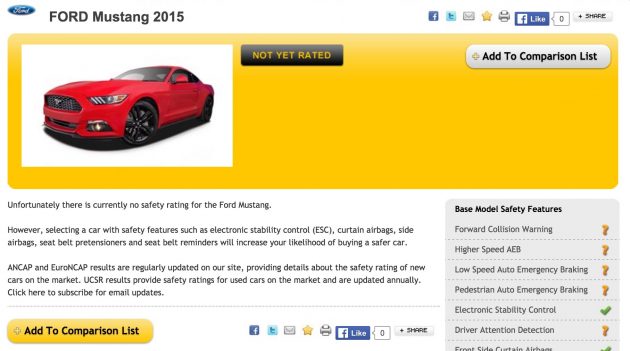 Ford's Mustang was the safest, while the Dodge Challenger followed behind, with the Chevrolet Camaro returning the least safest results out of the three.
The IIHS traditionally doesn't test muscle cars or exotics like these, as they make up a very small percentage of vehicles out there. However, IIHS engineers suggested testing a range of V8 sports cars following customer demand and a growing purchase rate of these types of vehicles. Adrian Lund, IIHS president, said:
"Given that sports cars have high crash rates, it's especially important that they offer the best occupant protection possible in a crash. The Mustang is just one good rating away from earning Top Safety Pick. Its small overlap rating holds it back."
The overlap that Lund describes was first introduced in 2012, and one that proved troublesome for the American trio. It recreates the impact of a collision with another vehicle, or stationary object like a tree. The overlap analysis also throws up challenges as it tests a vehicle's outer-edges that aren't reinforced by a crash structure like other parts of the body.
As you can tell, the Challenger didn't fare all too well. Lund said:
"During the crash, the Challenger's front wheel was forced rearward into the occupant compartment, and the footwell intrusion trapped the dummy's left foot and deformed its ankle. Our technicians had to unbolt the dummy's foot from its leg in order to free it. Entrapment is pretty rare. That's only happened five other times in a small overlap test."
The Ford Mustang's roofline buckled during the test, and the driver's "survival space" was intruded, but no major injuries were found on the test dummy. Despite this, it clawed back points by offering seats that help to prevent head and neck injuries, with head restraints.
The report also notes that Ford and Dodge received extra marks for being packaged with forward collision warning systems. Take a look at the video below for more detail.