Isn't there some sort of rule against this? It's a Ford Mustang fitted with a Chevrolet engine. Yep, this 'Bass 770' might seem contradictory but in fact, it sounds bloody awesome.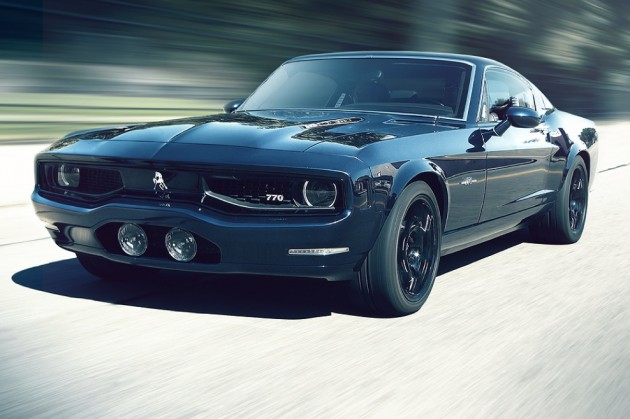 The project is the work of Equus Automotive. The team decided to create a very unique Mustang by fitting it with a 6.2-litre supercharged V8 from a Chevrolet Corvette ZR1. This is the full tilt LS9 engine which produces 477kW and 819Nm.
Interestingly, all of that grunt is sent through a six-speed manual transmission. It, along with the brutal engine, enables the Mustang to accelerate from 0-100km/h in just 3.4 seconds, and on to a top speed of 320km/h.
To keep the 'Stang running straight and handling well, the Bass 770 comes with magnetic suspension and adjustable dampers, as well as a set of proper Brembo carbon-ceramic disc brakes.
The interior is also mostly custom, with a bespoke dash including satellite navigation, a comprehensive sound system, and sports seats and steering wheel. It even comes with modern appointments such as airbags, cruise control, and active traction management with variable-ratio power steering.
If that isn't interesting enough, Equus plans to build these for customer order. Prices start at US$250,000 and head upwards depending on what options you would like.
A video has been released showcasing some of the details of the cross-bred muscle machine. Take a look below.