BMW is preparing what is believed to be a pre-production i8 Spyder for an official debut at the Consumer Electronics Show in January next year. It will likely be inspired by the concept version unveiled in 2012 (pictured).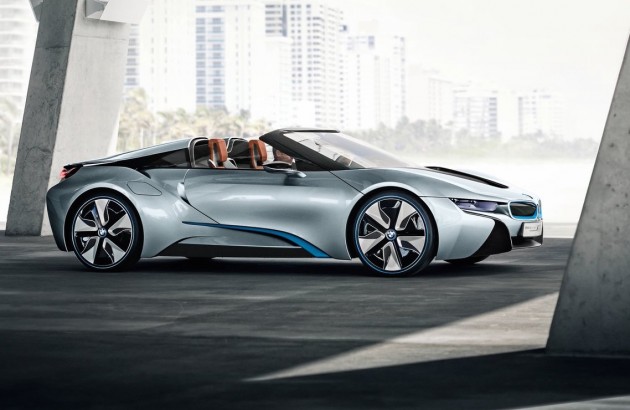 The German manufacturer previously faced hurdles in the form of converting the carbon-fiber reinforced-plastic body into an open-top spyder. However, BMW has reportedly overcome these problems and is said to be readying such a model for production.
The spyder variant is expected to be powered by the same 1.5-litre three-cylinder petrol engine, working in harmony with a front-mounted electric motor. The end result is a 0-100km/h time of 4.4 seconds in the coupe, thanks to instantaneous torque and lightweight construction.
BMW is rumored to be working on an update for the powertrain and battery system, with an increase in its electric driving mode range from the 37km currently on offer. It's unknown how much the range will be extended, but the update would likely make it to the production version of the spyder.
Given the extent of advanced technologies that are showcased at the CES event in Las Vegas, it does seem like the perfect place for BMW to introduce its latest eco-focused super sports car. Other car manufacturers will be using the event to show off their latest and greatest tech as well. It all starts on January 6.