Citroen's DS Automobiles has unveiled a new concept car called the DS X E-Tense, which is a vision for a supercar for 2035. It features all kinds of futuristic design cues and technologies.
DS is describing it as a "radically different experience". It certainly looks that way. Passengers enter the two- or three-seat cabin via something called elytre gullwing doors which are trimmed in a weave of carbon fibre and leather. From there, the driver is greeted with a pyramidal seat which encapsulates the driver like a racing seat.
The seat is reclined to help keep the centre of gravity low, and then there's an exquisite steering wheel made from wood and metal and wrapped in leather. It incorporates capacitive senses to monitor the driver, too. The rest of the interior is trimmed in two-tone millennium blue and navy blue aniline leather, with either one or two passengers sitting along side like a sidecar motorbike.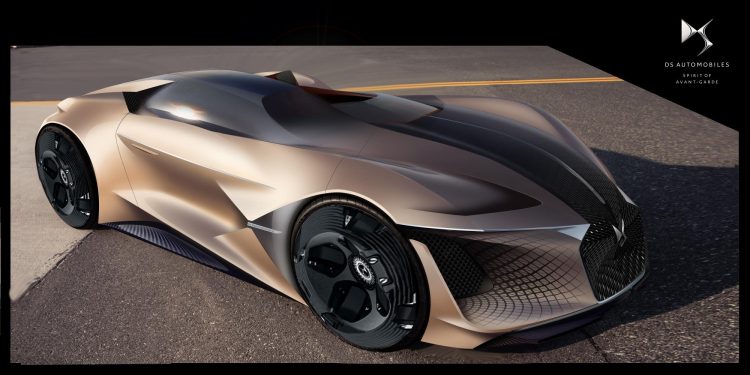 As for the exterior. Well, just look at it. At the front, conventional headlights cannot be found. Instead, the bodywork surface incorporates LEDs, in this case, to provide DS Veil light curtains. These can be arranged to concentrate light or change the colour and brightness of the beam. They look amazing.
There's a conventional grille, albeit quite a large one, while a two-tone bonnet features a double crease which is aligned with the driver and the centre of the cabin. Around at the back are two graphic lines that lead down from the cabin to the diffuser to present an 'X' symbol which relates to the DS Performance badge. Thierry Metroz, DS Automobiles design director, spoke about the concept in a statement, saying:
"We were given complete freedom to give shape our dreams and this creative process led us to imagine a two-facetted car, capable of delivering the best of two worlds: that of providing intense, unfettered driving enjoyment, with an abundance of power, and that of blending the art of living 'à la française' with autonomous motoring. In a way, DS X E-Tense comes across as a reinterpretation of the motorcycle side-car, with a bold asymmetric stance, but on four wheels."
In terms of the power source, it comes from a pair of electric motors which are, typically of Citroen, mounted inside the front wheels. DS suggests the technology behind it all is derived from Formula E racing, with output rated at 400kW, or, in 'circuit' mode, an eye-peeling 1000kW.
Although the DS X E-Tense is not set to go into production any time soon, inspiration is likely to be drawn from the car and some of its design elements in future sports models.