Some supercars simply wow you while others leave you gobsmacked and short of breath. Meet the Devel Sixteen. It's an example of the latter, and it recently made its debut at the Dubai Motor Show.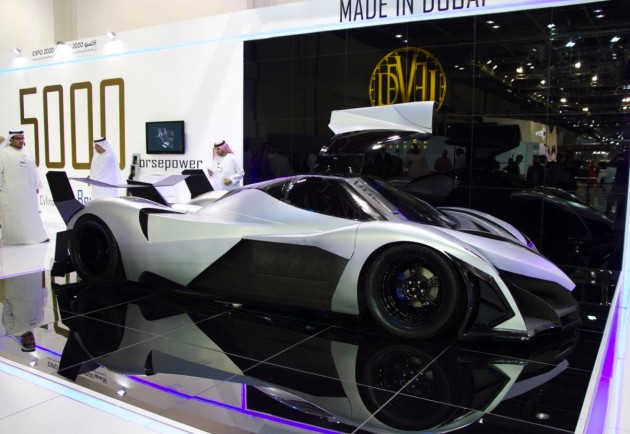 Although the exterior design is rather outrageous, with a sharp central nose and two outer prongs that dominate the front end, it's nothing compared to the colossal and barely believable engine that sits in the back.
You might find it hard to comprehend, like us, but sitting in the engine compartment is a V16 engine that produces a rocket-ship-like 5000hp. That's 3728kW of power. According to specs written on the wall, it's enough power to send the futuristic creation off from 0-60mph (0-97km/h) in just 1.8 seconds.
We're not completely convinced this thing is actually a legitimate 5000hp car. Judging by the style alone though, it certainly looks like it offers savage performance. The top speed is a claimed 560km/h, which would make it around 130km/h faster than a Bugatti Veyron Super Sport which has 882kW.
The car was created by Defining Extreme Vehicles Car Industry L.L.C. The company said the Sixteen was developed "with the passion of making this car a Legend in the history of super cars".
What do you think though, is it a bit too ambitious to be realistic? We'll be sure to keep you updated with any official speed tests or demo videos.
Click play below for a bit of an overview by YouTube channel Shmee150.