Tired of the same old Ford and Holden argument but still want a large muscle car with a brutally powerful V8? You need one of these bad boys. It's the 2012 Chrysler 300 SRT8; the most powerful V8 sedan for under $100k.
2012 CHRYSLER 300 SRT8 – PROS AND CONS
PROS:
Imposing, gangster, street machine, hot rod… call the looks what you like, they do appeal and attract lots of attention
Adaptive suspension in 'Sport' mode makes a noticeably positive difference to the handling
Price – $66,000 – undercuts both the FPV GT and HSV GTS
Comfortable cruising capabilities; seats and interior space, and ride
Loads of power and torque, with a really nice V8 soundtrack
CONS:
Slightly crude chassis dynamics, not what you would call an 'agile' handler
Some cheap and tacky plastics inside
Cylinder deactivation results in a soft and mushy accelerator pedal feel; engine not as responsive as you might think
2012 CHRYSLER 300 SRT8 – OVERVIEW
There's no denying some American cars do have a bit of a bad reputation. But when cars roll out from Detroit, especially those with meaty V8 engines, there is a certain something in the air that stirs attention, and commands respect. The Michigan city is the home of the muscle car; brute beasts that are all about horsepower, torque, and cubic inches.
Detroit has been building muscle cars for decades, so it knows a thing or two about how to build one. In this case, the 300 SRT8 shows us Aussies how it's done when it comes to pure, unadulterated anabolic automotive muscle.
Let's get straight to the point here, this thing produces 347kW of power and 631Nm of torque from its massive 6.4-litre HEMI V8.
Just run through those numbers again in your head. They're impressive enough to end those Ford/Holden arguments down at the pub, quite easily.
It's more powerful than any HSV or FPV currently on the market, including the HSV GTS (325kW/550Nm) and the FPV GT (335kW/570Nm). Hey, with 347kW, it even nudges on the two German giants – BMW M5 (412kW/680Nm) and the Mercedes-Benz E 63 AMG (386kW/700Nm) – both of which start at over $200,000.
This is the second generation 300 in Australia, featuring a freshened up look front, rear, and sides. It uses the same platform as the previous model, which is actually based on an old Mercedes-Benz E-Class platform, however, the chassis has been tweaked across the board.
It's now a lot stiffer to improve handling and corning composure, while steering is made through a new electric setup which is sharper and more precise. The suspension has also been altered for better ride quality and, again, improved handling.
The SRT8 is the top-of-the-range high performance variant. SRT simply means Street and Racing Technology for vehicles under the now Fiat-owned Chrysler empire; including Dodge and Chrysler performance models.
Prices, and this is where the package becomes really tempting, for the SRT8 start at just $66,000. That makes it $5290 less expensive than the FPV GT, and $16,990 less than the HSV GTS.
2012 CHRYSLER 300 SRT8 – START UP AND 0-100KM/H ACCELERATION VIDEO
2012 CHRYSLER 300 SRT8 – ACCOMMODATION AND EQUIPMENT
Chrysler has done a good job of redoing the interior of the big 300. There's now a more up-market feel to it all. There's real carbon fibre trimmings on the dash and door cards, a more intelligent multimedia interface with satellite navigation, and some plush leather and Alcantara-style sports seats front and rear.
The SRT8 model also comes standard with automatic bi-xenon headlights and auto high-beams, auto wipers, an electronically adjustable steering column, paddle shifters, keyless entry and button start, a dual-pane panoramic sunroof, and seat warmers/coolers for the front. There's also seat warmers for the two side rear seats for that extra hint of class.
Like the previous model, the Chrysler 300 offers heaps of interior space. Legroom is plentiful in the front and the back, and so is headroom. The sports seats are comfortable and supportive too, however, they aren't quite as hip-hugging as those found in the FPV and HSV counterparts.
The quality and fit and finish of all the fixtures and fittings isn't quite up to the standards of anything from Europe. In saying that though, some Falcons and Commodores aren't necessarily going to win any awards on that front either. There are some minor creaks and rattles on some roads, and the centre console is a little bit flimsy. But seriously, we're just nitpicking.
Overall, the interior ambiance and feel is a big step up from the previous model. There's now cool blue lighting for the instrument cluster, mood lights on the handles and floor, and there's no excessive cheap plastic or chrome trimmings. The dash design is now more modern as well and blends in with the door trims.
The highlight of the interior would have to be the multimedia interface. In the SRT8 it incorporates an impressive 19-speaker Harmon/Kardon stereo with a beefy subwoofer, with USB/MP3 and iPod support. We're surprised the unit doesn't come pre-set with a box set of Snoop Dogg and Dr Dre albums, as their tunes fit perfectly with the gangster character of the car and the rumbling subwoofer.
The unit also incorporates a very cool SRT8 user platform which allows you to monitor various performance aspects of the car, in real time.
Let us try to explain. Once you go into the 'More' section of the interface, you're taken to a vehicle profile. Here you can select to display various gauges, giving you a real-time indication of things like the coolant temperature and oil pressure, as well as more detailed information such as how much power you're commanding from the engine. Under full throttle we saw the 'Engine' menu display 400kW.
The other attractive function of this interface is the performance tests that it can measure. You can do your own 0-100km/h sprints, 0-200m sprints, and even a quarter-mile (400m) sprint. The best times can then be viewed under the 'Timers' menu.
After some playing around with getting the right amount of throttle while controlling wheelspin, we managed to do 0-100km/h in just 4.4 seconds, and a quarter-mile in just 12.8 seconds… not bad for a stock $66k V8 sedan.
2012 CHRYSLER 300 SRT8 – DESIGN AND SAFETY
The 2012 Chrysler 300 SRT8 is an imposing machine out on the road. We don't think we've ever experienced so many onlookers turning their heads to get a full glance of the beast. It looks mean and very muscular, especially with the bulging wheel arches.
Shadow chrome 20-inch alloy wheels make it look a touch sinister too, giving it a bad boy character, almost like it's done something a bit naughty.
It's fairly easy to spot the SRT8 from the regular variants. There's a big black mesh grille at the front for starters, and at the back there's an elegantly formed lip spoiler licking off from the boot lid. A fake rear diffuser section also wraps the twin-outlet exhausts.
The design could be mistaken for a much more expensive vehicle to those that are perhaps not so in-tune with the car industry. It steals many design cues from Bentley, with its slab-like profile, but there's also no mistaking this is an American muscle car, especially from the back where it droops right down, a bit like an older Cadillac.
In terms of safety, the 300 SRT8 comes with adaptive cruise control which, we found, is actually quite a good system. Even in comparison to the systems used in high-end luxury marques.
It offers three distance settings for between you and the vehicle in front, allowing you to keep overly big gaps ahead filled while on busy highways.
It also comes with a switchable electronic traction and stability control program with two modes – one that allows some play and slip and another that completely shuts it off – as well as curtain airbags for the front and rear, and two airbags each for the front passengers.
Australia's ANCAP is yet to test the 300, as is Europe's NCAP program. The National Highway Traffic Safety Administration (NHTSA) in the US has given it a maximum five-star rating though, and it has been given the 'Top Safety Pick' achievement by the Insurance Institute for Highway Safety. Despite the lack of an ANCAP rating, both of these US ratings provide substantial piece of mind in regards to the safety of the new 300.
2012 CHRYSLER 300 SRT8 – ON THE ROAD
Being an American muscle car usually means things get a bit wobbly and ugly when roads become curvy. Fortunately, thanks to the chassis and suspension improvements made to the 2012 range, the 300 SRT8 is a reasonably well-sorted outfit when it comes to handling.
It is a heavy vehicle, tipping the scales at 2012kg – heavier than both of the Aussie rivals – and the weight does become apparent when sifting through tight switchback corners. It's always very flat though, with virtually zero body roll. The steering is also adequately communicative, providing good feedback.
There is good reason it's so heavy. It's massive. Measuring 5089mm in length, it's more than 10cm longer than a Falcon, and 37mm wider. Surprisingly, it's not shorter, in terms of roof height, than the Falcon-based FPV GT, measuring 1478mm over the FPV's 1466mm. What we're getting at is this is not your city runabout.
Threading through the tight streets of central Sydney, we experienced a few 'eiisshh, that's close' moments, especially in tight car parks. That's not to say it's too big to handle, you simply have to be cautious, a bit like if you were driving a large SUV.
One problem we did encounter with the enormity was with the ride height. Being so long, the exhaust can easily become snagged on large concrete speed humps and while going up ramps, in a car park for instance. You also have to be careful on some driveways that drop down fairly suddenly.
Enough of the day-to-day stuff though, you need to know what 347kW goes like.
Under any more than half throttle on take off, the rear 245mm tyres will turn into smoke, leaving two long black lines up the road. If you want to take things further, we can confirm the SRT8 also does excellent burnouts if you ever find yourself on a private pad of concrete.
Under load, the 6.4-litre engine sounds really nice. It could be a touch louder, of course, but the note and tune actually sounds modern and metallic, like a twin-cam V8 with high compression – the SRT8's compression ratio of 10.3 is relatively high for a V8 too, and it revs to 6500rpm.
You can hear there is plenty of grunt behind that engine note, accompanied by a heap of cubic inches. It has that distinct thumping HEMI V8 drone, which kind of reminds you of Summernats early in the morning when someone decides to do a V8 wakeup call. It's very satisfying, and actually soothing under low loads.
With technology such a cylinder-deactivation working its magic – cutting four cylinders to conserve fuel when under light loads – the throttle response can be a bit sluggish. The five-speed auto kicks down only when you really push it.
This is when you simply go into the 'Controls' menu on the LCD screen inside, and push the 'Sport' button. This engages a more firmer suspension setting, and sharpens up the throttle.
The throttle does become more sensitive, but it still doesn't have the lightning response of say, the FPV GT. This can be a good thing though as sometimes too much sensitively can become tiresome.
We also think the mildly lazy throttle has been set up to suit luxury car buyers as well as those interested in lots of V8 grunt; Americans, in other words. Again, this isn't necessarily a bad thing as 347kW can be a dangerous amount of power to have on tap if you're not careful.
2012 CHRYSLER 300 SRT8 – VERDICT
Sure, it may not be as refined or balanced in terms of handling and chassis dynamics as the Australian rivals, but if you're in the market for a large V8 sedan you're probably not after something that's Lotus-sharp in the first place.
The 300 is, like most Americans, large. It's so accommodating inside, there's heaps of room. With the added benefit of adaptive suspension and throttle mapping through the Sport button – a feature both FPV and HSV don't currently offer – the 300 is reasonably versatile, especially with the cylinder deactivation technology cutting fuel consumption when you're simply cruising.
You can expect to see the fuel economy drop down to around 10L/100km during highway and semi open roads, which is not bad for a car with three hundred and forty seven kilowatts (it's a nice phrase isn't it?).
Above all though, the SRT8 is a cool machine. It gets respect wherever you go, and not just from brand-centric fans. You find yourself making new friends, young and old and from all walks of life when driving the SRT8. We had a number of other motorists giving us the thumbs up during our week with the car too, including one guy who was in a modified Commodore SS.
The new model is more refined than the old, with improved interior quality and some useful new engine technology to assist with economy. The fact that it's cheaper than both of its rivals makes it an extremely tempting option in our opinion. If you're sitting on the fence in terms of Holden/Ford, simply take one of these for a test drive. It will sweep you off your feet.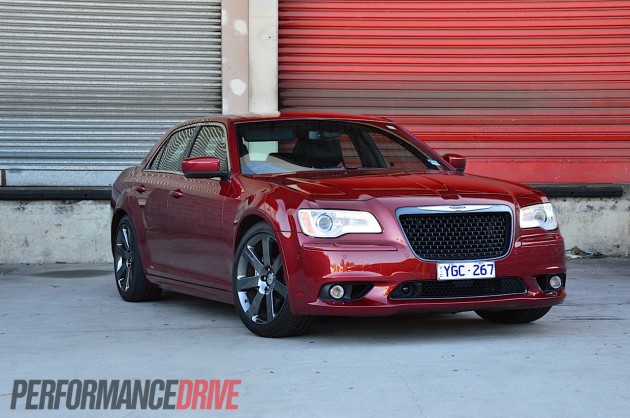 2012 CHRYSLER 300 SRT8 – THE COMPETITORS
FPV GT – 5.0-litre supercharged V8, 335kW/570Nm – 1828kg – $71,290
Australia's most powerful V8 sedan. Awesome power, obviously, with a great soundtrack, good comfort, decent features, and at a reasonable price.

2012 HSV GTS – 6.2-litre naturally aspirated V8, 325kW/550Nm – 1784kg – $82,990
The HSV GTS gets adaptive magnetic ride control suspension, lots of grunt from a Chev V8, and sharp looks on the outside. It does sit in the market as the most expensive in this trio, but it is, in our opinion, the better handling option out of the three.
2012 CHRYSLER 300 SRT8 – SPECIFICATIONS
MODEL
2012 Chrysler 300 SRT8
ENGINE
6.4-litre naturally aspirated V8 'HEMI', pushrod with variable valve timing, two valves per cylinder
ENGINE SIZE  / COMPRESSION RATIO
6417cc / 10.3:1
BORE X STROKE
96mm x 83mm
POWER
347kW@6100rpm, 631Nm@4150rpm
POWER TO WEIGHT RATIO
5.7: 1 (kg:kW)
KERB WEIGHT
2012kg
HEIGHT / WIDTH / LENGTH
1478mm / 1905mm / 5089mm
DRIVETRAIN
Five-speed auto transmission, rear-wheel drive
BRAKES
F: 360mm x 32mm ventilated and slotted discs, 44mm Brembo four-piston calipers
R: 350mm x 28mm ventilated and slotted discs, 32mm Brembo four-piston calipers
WHEELS / TYRES
F and R: 20 x 9-inch, 245/45 R20
FUEL TANK CAPACITY
72 litres
FUEL TYPE
95 RON
FUEL CONSUMPTION
Tested average: 17.5L/100km
Official average: 13L/100km
PERFORMANCE
0-100km/h: 4.4 seconds (tested)
PRICED FROM
$66,000
WARRANTY
Three-year/100,000km