Chinese carmarker BYD (Build Your Dreams) is known for advanced battery electric vehicles and hybrids, as well as the fastest car made in China; the Lexus RX 450h-like BYD Tang.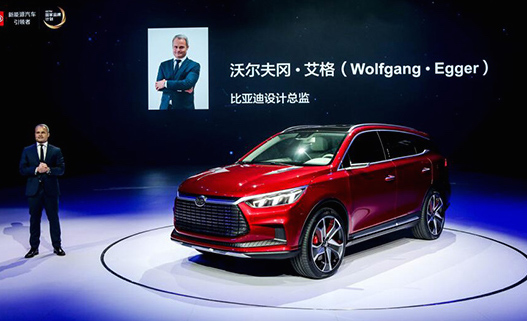 The latest creation from the company is the Dynasty electric prototype, which is a large crossover roughly around the size of a Toyota Kluger.
To lift things up in the visual department, the company recently hired former Audi designer Wolfgang Egger, who is responsible for this SUV's appearance. He had the following to say about his new appointment:
"Joining BYD provides an opportunity to help a young brand develop its design DNA as it looks to expand its global footprint. This concept vehicle will take BYD's consumer vehicles in an exciting new direction, with design cues like its dragon-inspired exterior drawing inspiration from China's rich cultural heritage."
The slightly cab-forward design looks mostly original, with camera stalks instead of rear-view mirrors, soft scalloping on the lower door panels and a floating roof effect on the D-pillar.
The Dynasty is showcased alongside other new electric models at the 2017 Shanghai Motor Show. Wang Chuanfu, company president, said:
"The trend to go electric is already irreversible. But where is the next growth area? There's no doubt that it will be in consumer vehicles, most of them plug-in hybrid models."