Remember the Brabham BT62 teaser from last month? Well, another teaser has been released along with some interesting (and very tasty) specifications.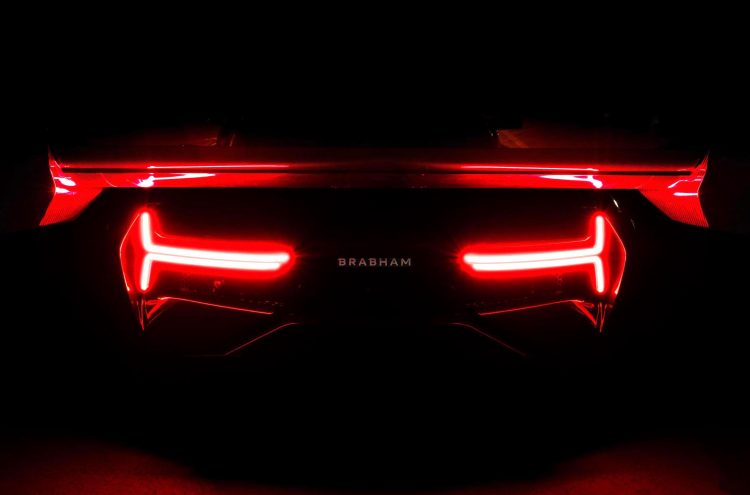 Yes, there's another new supercar on the horizon. This time by a company called Brabham Automotive. And yes there is a connection to Sir Jack Brabham, with the new auto company founded by David Brabham, the son of the Aussie-born racing legend.
The previous teaser didn't reveal much, and this preview image doesn't do much for you either. But it's the specs that are the talk of the town. Brabham Automotive is promising a 5.4-litre naturally aspirated V8 powertrain, sitting it a lightweight structure that weighs just 972kg.
Although the peak outputs haven't been mentioned the company does confirm the BT62 will offer a power-to-weight ratio of 730PS per tonne. A quick calculation means the engine produces around 710PS, which translates to 522kW.
With these figures it is going to be a very serious machine indeed. It'll go up against some of the big daddy's of the market, such as things like the new Ferrari 488 Pista. The company says it is being developed for the track, and engineered to "demand more from the driver and reward the limited few who will rise to the challenge."
Aside from the insane power and low weight, the BT62 will come with some pretty crazy aero features for the exterior, apparently capable of producing over 1200kg of downforce. This means, as stupid as it sounds, the car could theoretically drive upside-down.
There's also crazy brakes with six-piston calipers front and rear, derived from F1 technology, with carbon discs, and something described as an "extreme carbon fibre rear wing". As the teaser image shows, it does look very extreme. The BT62 will come with some complex LED taillights too.
All will be revealed on May 4. Interested buyers can place an order now, although just 70 examples will be made. Prices start from £1m, with deliveries set to commence later this year.