Isuzu has announced a raft of updates for its D-Max and MU-X range for the 2018 model year, on the back of staggering growth over the last few years, and following feedback from Australian customers.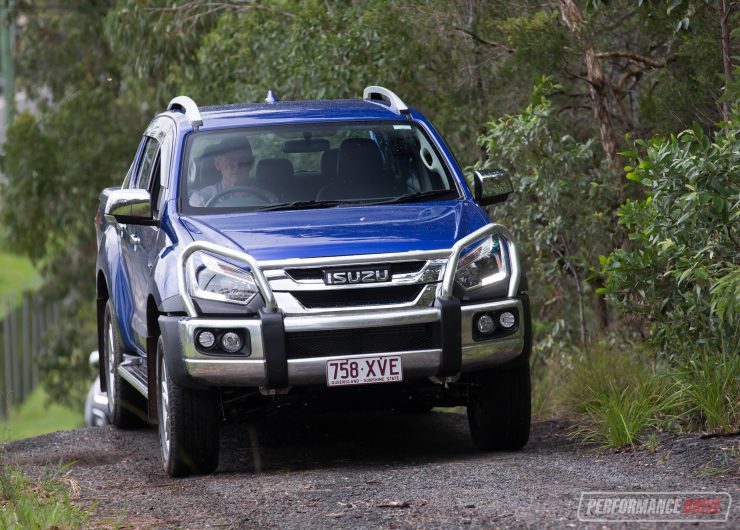 Despite both being relatively young nameplates, with the D-Max having launched locally in 2008 and the MU-X in 2013, both have now cemented themselves into the top 10 sales performers of their respective segments, with Isuzu Ute Australia aiming for 30,000 local sales by 2020.
The success of these models can be attributed to – among other things – Isuzu's truck heritage and recognition, affordable market positioning and a generous warranty and roadside assistance package. Isuzu's I-Venture program and Team D-Max precision driving team and advertisements reinforce the towing and adventure angle, which has obviously resonated very well with local buyers.
For 2018, suspension, colour range, interiors and a new high-spec model for the D-Max headline the changes. The D-Max LS-T now joins the range as a permanent addition, with a new, higher quality leather used for the seats and trim. The similarly-specced MU-X LS-T also benefits from the same material upgrades.
Staying with the interior, the USB connectors are now 2.1-amp units, which means they can power tablets and charge phones much faster than before. The infotainment cluster is mostly the same, but all pickup variants of the D-Max now feature a reverse camera with dynamic guidelines as well as sensors.
The D-Max's rear suspension setup has switched from a five-leaf arrangement to three, promising improvements in ride quality as well as payload, which us up by 100kg across the board. This means the SX single cab chassis is now rated to 1349kg – class best according to Isuzu. There was a mining spec base model D-Max with five-leaf suspension on hand, meaning it remains a heavy-duty option.
As mentioned before, towing is a pillar of Isuzu's marketing strategy for both vehicles and to this end, trailer sway control has been incorporated into the electronic stability program. Running costs have come in for some examination too, with the service intervals upgraded from 10,000km to 15,000km.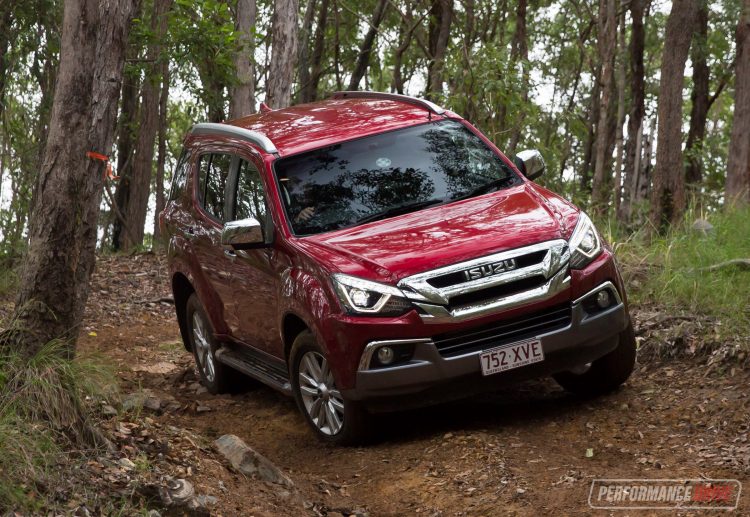 Three new colours join the range, with Magnetic Red Mica, Cobalt Blue Mica and Graphite Grey Metallic. The former two are striking and give buyers an eye-catching option who might otherwise consider a different make.
Isuzu invited PerformanceDrive to the Mount Cotton Driver Training Centre in Queensland for some wheel time. MY17 models were also on hand for direct comparison.
Driving the MY17 and MY18 D-Max back-to-back over some challenging trails, the MY18 is much less fidgety and settles much quicker. While there's not much in it, it also feels perceptibly more planted. The LS-T with its leather seats, new push-button keyless entry and other luxury accoutrements do not feel 'commercial grade' at all, especially in the Cobalt Blue colour which looks just right in the Queensland sun.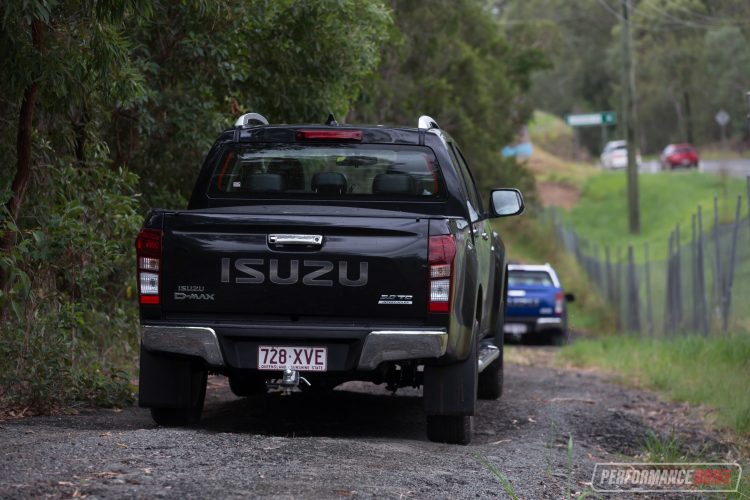 The 3.0-litre turbo-diesel engine in both models received a heavy upgrade last year, including the introduction of a variable-geometry turbocharger. It continues to be a smooth, lag-free performer. Niggles still include the steering wheel with buttons that would give you a callous, but if you're a tradie you probably already have them anyway.
The USB covers require long fingernails and the overall design does lag behind its rivals in our opinion, but the material upgrades do make a noticeable difference. For improvements in this area, you will have to wait for the next-generation model due in 12-18 months, which is being co-developed with Mazda.
PD also got to experience the Isuzu I-Venture off-road program, which shows you how to get the most out of your D-Max or MU-X 4×4 over selected trails. Both vehicles proved extremely capable, with the lack of differential locks not missed on these particular trails. A fun way to get into off-roading, even if you have no experience whatsoever.
Isuzu's precision driving team was also on hand to show us some new skills on the skid pan and take us for two-wheels-up rides. All up this shows Isuzu Ute Australia has a fun company ethos and an effective marketing team, which explains the brand's success. So far this year Isuzu Ute sales (D-Max and MU-X) are up 31.9 per cent, and during 2017 the company sold 25,804 units, up 10.4 per cent on 2016 efforts.
We will try and grab the updated models for a more in-depth review in the near future for you. In the meantime, the full prices are as follows:
18MY Isuzu D-MAX
Recommended Retail Price (RRP)

Grade

Transmission

RRP inc.GST

4 x 2

SINGLE CAB CHASSIS

SX

man

$28,600

4 x 2

SINGLE CAB CHASSIS

SX

auto

$31,900

4 x 2

CREW CAB CHASSIS

SX

auto

$37,500

4 x 2

SPACE CAB UTE

SX

auto

$36,300

4 x 2

CREW CAB UTE

SX

auto

$38,700

4 x 2

CREW CAB UTE

LS-U

auto

$44,100

4 x 2

CREW CAB UTE

LS-T

auto

$46,900

4 x 4

SINGLE CAB CHASSIS

EX

man

$35,000

4 x 4

SINGLE CAB CHASSIS

SX

man

$38,200

4 x 4

SINGLE CAB CHASSIS

SX

auto

$40,300

4 x 4

SPACE CAB UTE

SX

man

$41,000

4 x 4

SPACE CAB UTE

SX

auto

$43,100

4 x 4

CREW CAB CHASSIS

SX

man

$43,400

4 x 4

CREW CAB CHASSIS

SX

auto

$45,500

4 x 4

CREW CAB UTE

SX

man

$44,600

4 x 4

CREW CAB UTE

SX

auto

$46,700

4 x 4

CREW CAB UTE

LS-M

man

$46,900

4 x 4

CREW CAB UTE

LS-M

auto

$49,000

4 x 4

SPACE CAB UTE

LS-U

man

$46,600

4 x 4

SPACE CAB UTE

LS-U

auto

$48,700

4 x 4

CREW CAB UTE

LS-U

man

$48,800

4 x 4

CREW CAB UTE

LS-U

auto

$50,900

4 x 4

CREW CAB UTE

LS-T

auto

$54,700
18MY Isuzu MU-X
Recommended Retail Price (RRP)

Grade

Transmission

RRP inc. GST

4 x 2

7-Seat SUV

LS-M

auto

$42,900

4 x 2

7-Seat SUV

LS-U

auto

$45,200

4 x 2

7-Seat SUV

LS-T

auto

$48,900

4 x 4

7-Seat SUV

LS-M

auto

$50,200

4 x 4

7-Seat SUV

LS-U

man

$50,400

4 x 4

7-Seat SUV

LS-U

auto

$52,500

4 x 4

7-Seat SUV

LS-T

auto

$56,200