BMW has revealed a new special edition X6 called the X6 M Design Edition, providing a full suite of 'M' additions to the high performance four-door coupe off-roader.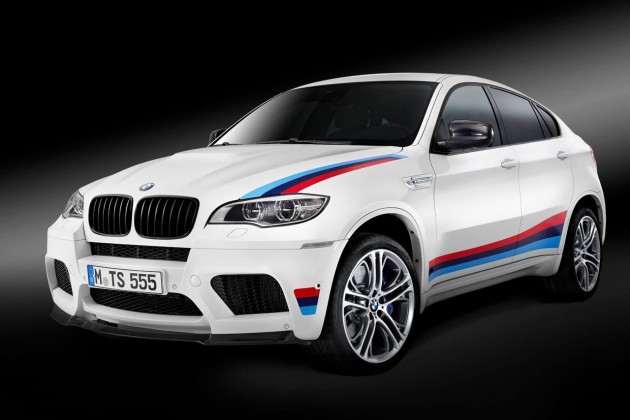 The M Design Edition showcases obvious M highlights on the outside, such as M Performance stripes over the bonnet and along the lower sections of the body, as well as a carbon fibre front spoiler system and a matching matt black grille.
At the back, there's a chunky diffuser setup with integrated exhaust outlets and a neat carbon fibre lip spoiler mounted on the tailgate.
As for under-bonnet performance, nothing has been mentioned in terms of enhancements. The X6 M in standard form comes with a 4.4-litre twin-turbo V8 producing 408kW and 680Nm. In other words, it's more than capable as is.
To top it all off the interior is given a once over with Black/Mugello Red lashings of leather covering the dash, while the seats are wrapped in Merino leather with Mugello Red stitching. A unique build number plaque also sits on the dash to reassure owner exclusivity.
BMW is planning to make just 100 examples of the special edition. It's unlikely to make it to Australia shores, however, BMW Australia does offer local customers a range of M Performance parts and accessories which could potentially bring an X6 to this level.