Volkswagen has officially confirmed the all-new, 2018 Volkswagen Touareg will debut in the first half of the New Year. It's set to be inspired by the T-Prime concept car unveiled in 2016.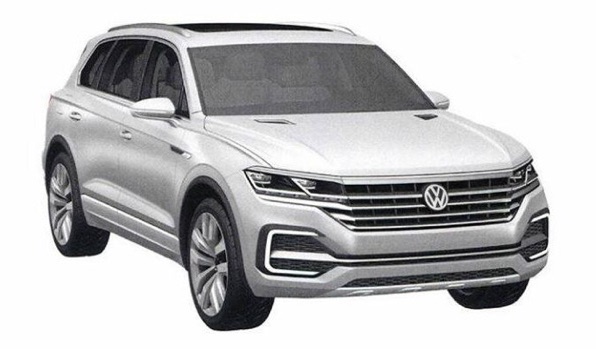 The troubled German carmaker is still dealing with the massive dieselgate scandal that first broke in 2015. However, it's full steam ahead for 2018, with a number of new products confirmed to arrive at some point this year.
No details on the new Touareg have been revealed with the confirmation. Volkswagen simply says; "The spring will then be dominated by the third-generation Touareg, which has been redesigned right down to the very last LED."
Some patent images were found late in 2016, providing a fairly detailed look at the new SUV's design, front and rear. At the front we'll see a horizontally-oriented grille layout, with some tiers connecting directly to the headlights – like what is seen on the recently-launched Arteon (previously known as Passat CC), with full LED headlight technology and a some sporty side clusters.
At the rear are some thinner and wider taillights, likely with full LED technology as well, and a semi-sloping roofline leading to a spoiler-equipped tailgate. As for the main torso, it looks set to continue its slab-like profile, however, additional body lines and a discreetly sculpted rear haunch area are brought in.
The new model will be based on the MLB Evo platform which debuted under the new Porsche Cayenne and Bentley Bentayga. It's expected to help with improving everything from fuel economy, production efficiency, performance, and handling.
In other news, VW will also launch the Up! GTI very soon, with order books already open in some markets. The 1.0-litre turbo micro machine was unveiled in May last year, featuring all of the condiments you'd expect for a GTI model, paired with the clever packaging of the Up! It features an 85kW petrol engine, which should provide fun performance for the 997kg hatch.
Volkswagen is also planning to launch a number of electric models towards 2020, including the I.D. CROZZ SUV and I.D. BUZZ MPV.