Following up on a preview for M Performance parts catered for the new BMW M2, BMW has decided to reveal the parts once again, only this time showing the complete package.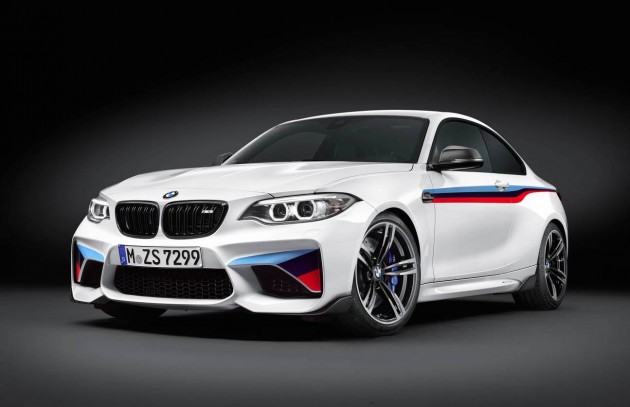 As previously reported, BMW M2 buyers will be able to personalise their car through various custom-developed M Performance parts and accessories. These range from aero enhancements to more serious mechanical upgrades.
Starting with the exterior, M Performance has developed a suite of aero parts made from lightweight carbon fibre. The extent of which comprises of a rear diffuser, side mirror caps, side skirts, and an extended front apron and rear lip spoiler. The M2 already looks as muscly as hell, but these parts certainly give the small coupe a distinctive edge.
No engine upgrades have been developed, however, buyers can opt for a full sports exhaust system with a multi-mode muffler offering Sport and Track settings. Each setting changes the sound output accordingly, shooting through 80mm tailpipes.
Some modifications can also be made to improve handling, including fitting M Performance coil-over suspension. This setup reduces the ground clearance by at least 5mm, although it is adjustable and can be lowered by a further 20mm. Unique dampers provide at least 16 levels of adjustment, minimising body roll and pitch.
Lastly, buyers can give the interior a complete makeover. You guessed it, carbon fibre is the material of choice for M Performance. The exotic reinforced plastic can be used for the centre console, dash and steering wheel, while soft Alcantara is used to trim various bits and pieces.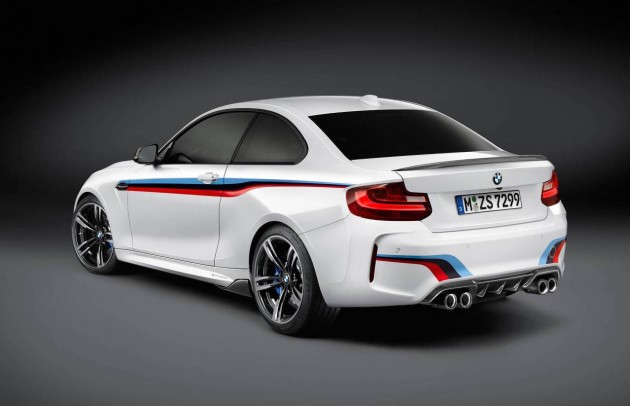 All or selected options will be available to buyers when the M2 is launched later this year.
BMW Australia hasn't mentioned anything about bringing such features to the M2, which goes on sale from $89,900 and arrives during the second quarter, however, PerformanceDrive can confirm similar enhancements are offered on other models in the local showroom. In a press release handed out to Australian media, BMW Australia lazily says at the bottom:
"Note: International press release. This is a 1:1 copy of the original issued by BMW Group headquarters in Germany. No adaptations have been made to cater for the Australian market."