An image that appears to show the 2014 Mazda3 has surfaced online via a Japanese magazine. It's unknown just how credible these images are, however, many reports claim they could be very accurate.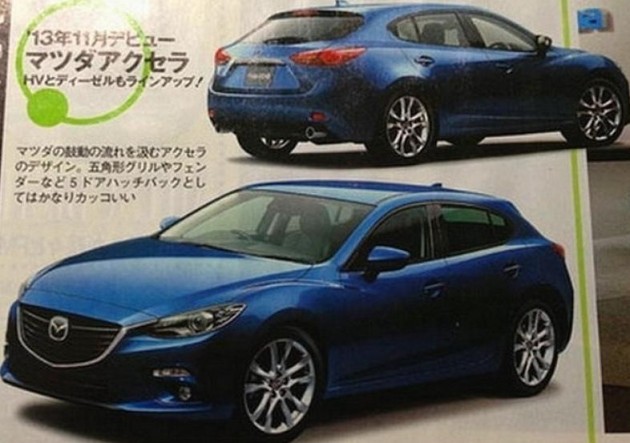 Even if they aren't real or only speculative renderings, the images do resemble a likely design direction for the next-gen Mazda3. There's the company's new front grille design, which can already be seen on the new Mazda6, CX-5, and the new CX-9, while the side profile seems to be an evolution of the current model's layout.
At the front sit much more sharper headlights compared with the current model, again, taking inspiration from other new Mazda vehicles which have been designed under the company latest KODO styling language.
Towards the rear you can see curvy wheel arches which give the hatch an elegant character, while the taillights are thinner and sharper than those used on the current model as well. It's possible these could incorporate LED lights.
Official specifications and details on the next model are still under wraps. It's believed the model will be based on the same platform which underpins the CX-5 SUV, while engine options could span from SKYACTIV petrol and diesel options. A performance MPS version with a 2.5-litre four-cylinder is also possible.
Thanks to the SKYACTIV technologies, the new Mazda is likely to be lighter in weight, more dynamic and with more technology inside and out, and, perhaps most importantly, even more fuel efficient.
A full unveiling is expected to take place in the very near future. Sales in Australia are set to commence by the first quarter of next year.
The Mazda3 was the best-selling vehicle in the country during 2011 and 2012. It will be interesting to see if the new model will carry on the popularity.