The all-new Mercedes-AMG GT and GT S sports car has finally been revealed in full. It shows off a fresh design and a new V8 engine, ready to step into the sports car segment with the likes of the Porsche 911 and Jaguar F-Type Coupe.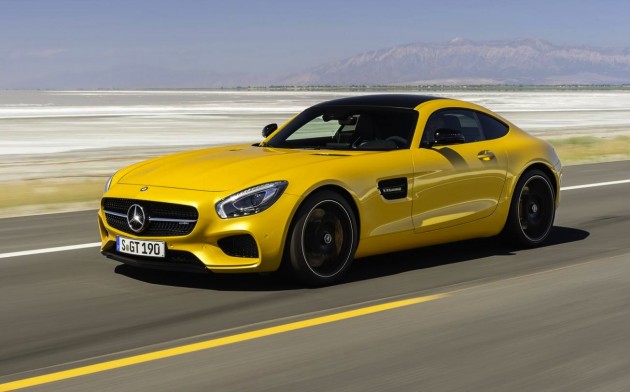 The AMG GT is built entirely in-house by AMG. AMG is usually the division responsible for creating enhancement packages for regular Mercedes-Benz road cars, and develops special engines and chassis components.
It looks stunning, the new GT, featuring petite proportions all round and lots of curve inspired by the classic 300SL. Mercedes has engineered active aero elements into the body as well which aid cooling and enhance stability at speed.
Most of the AMG GT's structure is made from aluminium providing precise dynamic rigidity and lightness. The chassis component weighs 231kg alone, while the complete vehicle weighs a respectable 1540kg. Weight distribution sits at 47:53 front to rear.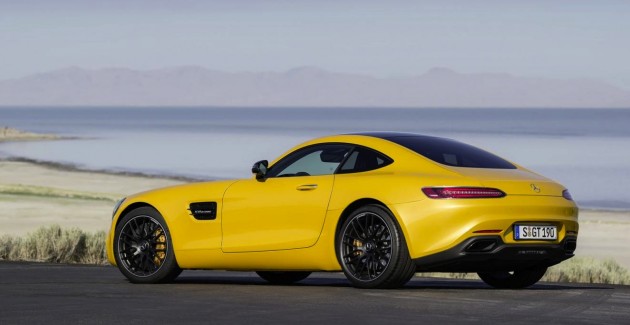 Overall, the GT is 4546mm long, 1939mm wide, and 1289mm tall. This makes it slightly longer, slightly wider, and about the same height as a Porsche 911 coupe. It's smaller than the SLS.
Two model variants will be launched, including the GT and the GT S. The base GT is powered by a 4.0-litre twin-turbo V8 producing 340kW at 6000rpm and 600Nm from 1500-5000rpm, while the GT S is tweaked to produce 375kW at 6250rpm and 650Nm from 1750-4750rpm.
Out on the tarmac drivers can experience 0-100km/h in just 4.0 seconds in the GT and 3.8 seconds in the GT S. Both are capable of hitting a top speed of over 300km/h
In terms of economy, the GT uses 9.3L/100km on the combined cycle, with the more powerful GT S using 9.4L/100km in the same test.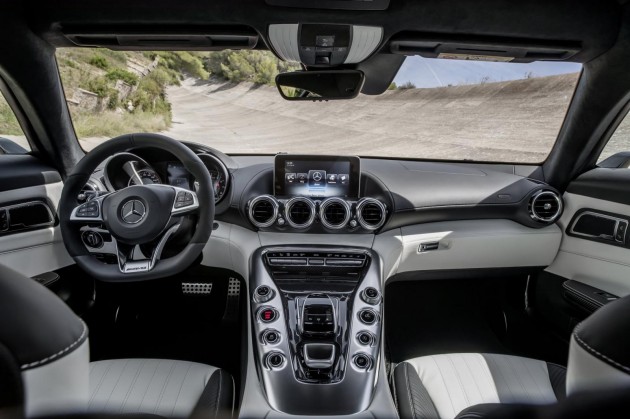 Inside, the GT features a typically modern AMG decor with plush leathers and Alcantara, exquisite details around the dash and door trims, and either a 7.0-inch or 8.4-inch infotainment display.
To help set the two variants apart, the GT comes with 19-inch alloy wheels wrapped in 255/35 tyres on the front and 295/35 tyres on the rear, while the GT S comes with 19-inch front and 20-inch rear wheels wearing 265/35 and 295/30 tyres, respectively.
The GT also gets 360mm brakes and the GT S gets 390mm, with ceramic discs being an option. Both feature a locking differential to help get the power down to the ground, along with a seven-speed dual-clutch auto transmission.
Mercedes-Benz Australia is yet to confirm local availability and pricing. It will go on sale internationally during the start of 2015.