Now that most people have settled on the somewhat controversial design of the 2014 Jeep Cherokee (including us), sales are starting to make an impact on the segment. On paper, it is one of the more modern and well-packaged products in this tough market, but how does the base model Sport shape up?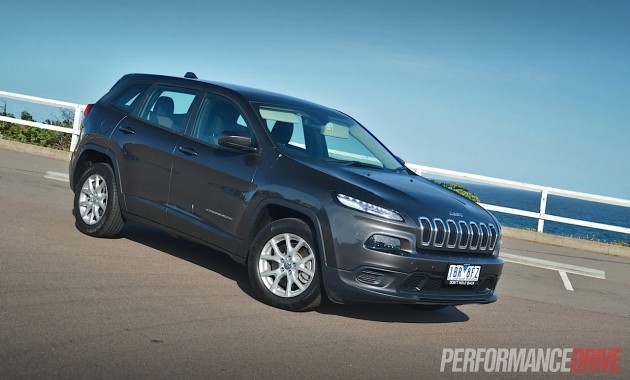 During October, Jeep Australia sold 521 examples of the Cherokee, giving it 5.5 per cent market share and an 8th position on the most-popular list. It's still not quite up there with the front-runners such as the Toyota RAV4 (1582) and Mazda CX-5 (1594), but compared with the previous model it is proving more popular; during October in 2012 there were 324 Cherokees sold, and just 108 in the same month in 2011.
There are plenty of enticing attributes to the Cherokee Sport, including a class-first nine-speed automatic transmission, a new 2.4-litre 'Tigershark' four-cylinder engine, and an impressive touch-screen interface and various gadgets as standard.
The Sport is only available with the nine-speed auto and the 130kW/229Nm 2.4 petrol engine, with front-wheel drive. Prices start at $33,500. A diesel model has just been launched but only in Limited trim level.
2014 Jeep Cherokee Sport – THE SPECS
Engine: 2.4-litre four-cylinder
Output: 130kW@6400rpm / 229Nm@4600rpm
Transmission: Nine-speed auto
Drive type: Front-wheel drive
Wheels: F: 17×7.0, 225/60  R: 17×7.0, 225/60
ANCAP: Five stars [AWD](scored 36.16 out of 37)
Kerb weight: 1638kg
Power-to-weight: 12.6:1 (kg:kW)
Official fuel economy: 8.3L/100km
Economy during test: 8.7L/100km
Fuel capacity/Type: 60L/91 RON
Power efficiency: 15.6kW:L/100km
0-100km/h as tested: 10.4 seconds
Priced from: $33,500
2014 Jeep Cherokee Sport – THE PACKAGE
There's no denying the American's penchant for interior space and comfort. The Cherokee isn't classed as a large SUV anymore, that space is left to its bigger brother, the Grand Cherokee, however, this new model feels spacious inside. The rounded exterior proportions are a little disorienting as they make the vehicle look tighter and smaller than it is.
Compared with the boxier predecessor, the new model is actually 131mm longer, 20mm wider, and the wheelbase is spread apart 5mm farther. The only area where the old model overshadows is with overall height, being 127mm taller. There's no complaints about headroom in here though. The cabin layout is low allowing ample headroom in the front and back.
When sitting up front it almost feels like you're in a biggish sedan. The dash is quite high and you're submerged within the cabin as opposed to sitting on top of it. In fact, buyers who are after a typical raised-up SUV seating position might be let down by the Cherokee. There are some rivals that feel taller. This submerged style of seating does cause blind spots too, and some confusion in predicting the body's whereabouts in car parks and so on. None of this makes any real difference underneath. There is 185mm of ground clearance, which is within the average range for this style of vehicle.
Sitting in the dash is a 5.0-inch version of Fiat-Chrysler's latest Uconnect touch-screen system. It presents a number of applications, including the controls for the audio system with multi-format connectivity, the display for the rear-view camera, as well as some handy vehicle settings pages where you can set things like the door lock behaviour. There's also Bluetooth with voice recognition as standard. Like most vehicles with voice recognition though, the system here is not very responsive. It's like telling a cat to go and fetch a stick; you and it are left dumbfounded by the conversation.
The cabin design is likeable and liveable. Seating adjustments allow you to find a good driving position, and the functions on the dash are within arm's reach. There are some off-putting cheap plastics used to decorate the Sport's cabin, but the seats are soft and cushy and feature cool contrasting stitching and sporty side support bolsters.
The standout elements of the cabin are the touch-screen interface, and the digital trip computer display screen within the instrument cluster. The digital trip computer shows everything from live tyre pressures (doesn't require a preset like many other systems), to fuel economy and a digital speedo readout.
Australia's safety gurus over at ANCAP haven't actually tested the Sport. All all-wheel drive models have been crashed into various beams and slammed into poles, and ANCAP has been pleased with the outcome. With five stars and an overall score of 36.16 out of 37, the Cherokee is one of the safest SUVs in this class. Standard technologies that try to keep you as alive as possible in the Sport include seven airbags, stability and traction control, hill-hold, and a rear-view camera. Variants further up the ranks come with more advanced features such as radar cruise control, which is rather impressive for this segment.
2014 Jeep Cherokee Sport – THE DRIVE
With a sedan-like cabin, the driving experience is actually quite similar. The ride is soft and cushy, and body control is stable but with a hint of body roll. Higher speed stability isn't the best compared with some rivals and the steering is a bit wooly and monotone, with vague feedback sent through to the driver. Its handling performance and composure is about average for this class. We think the 1638kg kerb weight tarnishes agility and gives it a distinct spongy feel. Around town it is completely acceptable and even presents a secure and solid persona.
We're not much of a fan of the nine-speed auto. It's revolutionary and a great buzz word to be able to boast a gearbox that has nine gears, but in reality the drive can be jerky, indecisive and unusually reluctant to kick down despite the pure availability of ratios. Well, that's at least what we thought after testing the Limited earlier this year, which comes with a 3.2-litre V6. Mated up to the less powerful and lower-torque 2.4 four-cylinder, we're surprised to report the mountain-bike-like transmission is a more sincere companion.
With a lower torque output than the V6, the Tigershark engine relies on having the tractability of multiple ratios and multiple torque ranges. It seems to change down sooner and behave more in sync with the engine than with the V6. In the V6, it has a tendency to stay in a higher gear such as fourth when it would be smoother and less stressful if it were in third. In most situations in the Sport 2.4, by the time you anticipate the need for a downchange it has already done it. The changing points are suitably calibrated, providing smoother operation and a smoother overall drive, in our opinion.
For this reason, the 2.4 doesn't feel that underpowered. We timed 0-100km/h in 10.4 seconds, some 2.0 seconds slower than the 200kW V6. You wouldn't guess it though. Roll-on acceleration is ready and reasonably willing for this market category. Being a smaller engine, with two-wheel drive, the Sport is significantly more fuel efficient as well. Official figures say 8.3L/100km and real-world figures for us were not far off, at around 8.7L/100km.
Compared with the 3.2 V6 – 10L/100km and 12.6, respectively – it's a shame Jeep doesn't offer the 2.4 in higher variants so you can enjoy the luxuries without dreading the frequent fuel station stops. Again though, there is the new diesel Limited that has just been introduced which could solve all of this (we haven't driven it yet). In terms of how it sits in the market, the 2.4 Cherokee is heavy and one of the least economical base model SUVs available at the moment. But it is one of the most powerful.
While you can't go heavy-duty off-roading in the Sport, you can definitely enjoy a splash around in the mud and kick up some dirt. The ground clearance is identical to all other variants, which are AWD (except the Trailhawk, 221mm), which means you can explore pretty rugged territory so long as it's not really slippery.
2014 Jeep Cherokee Sport – THE VIDEO
2014 Jeep Cherokee Sport – THE VERDICT
We like the new Cherokee. It's like a friendly dog. Once you get over the smell, or in this case the squinting face, you quickly develop a rapport with its easygoing character and approachable personality. The cabin is a pleasant place to spend time, and very practical with ample storage solutions and places to keep your nicknacks.
The base model Sport misses out on some cool features, but the upshot is decent economy, a more systematic engine and transmission synergy, and obviously a lower price tag. If we were to buy one we would have to go with the new diesel. That way you could use the Cherokee in honour of its true heritage, enjoy the economy benefits, and relish in the luxuries.
PROS:
– Comfy and spacious interior
– Uconnect touch-screen
– Nine-speed auto works well with the 2.4
– Interesting exterior design makes it stand out among humdrum rivals
– Practical and well equipped

CONS:
– Spongy body control and steering
– That sour-face front end?
– Heavy for a base model FWD SUV
2014 Jeep Cherokee Sport – THE COMPETITORS
Ford Kuga Ambient FWD (manual only)
1.6-litre turbo four-cylinder – 110kW-240Nm – 6.7L/100km – 1569kg – from $26,990
Honda CR-V VTi Plus FWD (auto)
2.0-litre four-cylinder – 114kW-190Nm – 7.7L/100km – 1488kg – from $30,790
Mazda CX-5 Maxx Sport FWD (auto)
2.0-litre four-cylinder – 114kW-200Nm – 6.4L/100km – 1478kg – from $33,620
Toyota RAV4 GXL FWD (auto)
2.0-litre four-cylinder – 107kW-187Nm – 7.4L/100km – 1540kg – from $35,190