BMW's quad-turbocharged diesel straight six has made its debut under the hood of the new G11 7 Series. The 750d xDrive and long wheelbase 750Ld xDrive will commence European deliveries in July.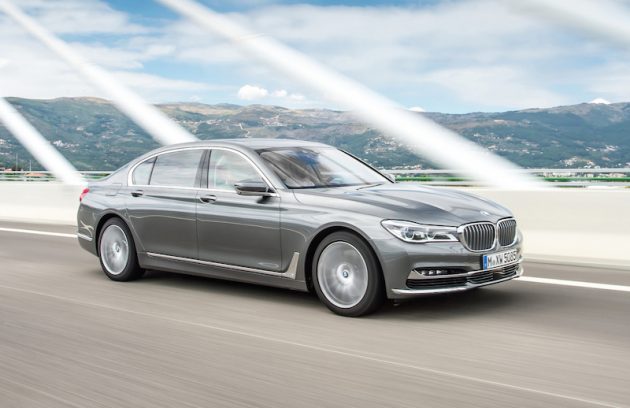 With power and torque numbers you'd usually expect to see in a semi-trailer – at 294kW and 760Nm – the 0-100km/h time is 4.6 seconds (4.7s for the LWB) and top speed is restricted to 250km/h. What's scarcely believable, though, are the L/100km and C02 figures; 5.7-5.9L/100km and 149-154 g/km, respectively. Outstanding for a large upper-luxury sedan with HSV GTS-equalling performance times.
The Bavarian boffins are attributing this to having four turbochargers of various size to spread power delivery, adding that it "enables boost pressure to be built up even more quickly at lower engine speeds and therefore prompts incredibly swift responses to throttle applications from idle".
BMW is claiming it is the "World's most powerful six-cylinder diesel". Even the much bigger and heavier 6.7-litre Cummins diesel inline-six in the US Dodge Ram, which runs it a close second, trails at 287kW, but at 1220Nm.
The Beemer will face some stiff competition from rivals. Audi has a 320kW/900Nm e-turbo diesel V8 in the SQ7, that may be seen in next year's all-new A8, while the biggest diesel engine in the S-Class globally is a 3.0-litre 190kW/620Nm V6 at this stage.