The new 2012 Fiat 500 TwinAir is now on sale in Australia. It features the company's new two-cylinder turbocharged engine, boasting a 3.9L/100km combined fuel consumption rating. The TwinAir becomes the new entry-level variant, replacing the 1.4 Sport.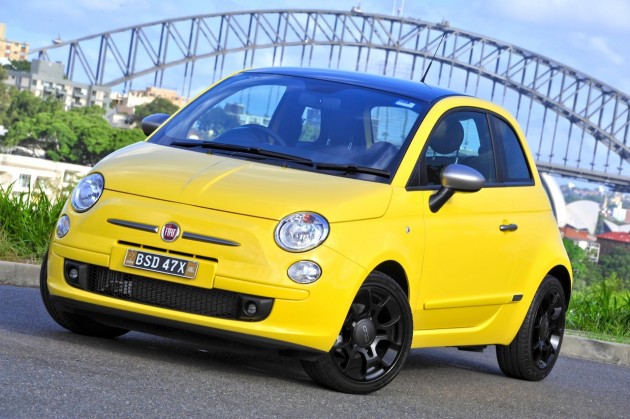 Even though the Fiat 500 1.4 Sport features a 1.4-litre four-cylinder engine producing 74kW and 131Nm, the new TwinAir comes with a 875cc turbocharged two-cylinder engine producing similar outputs of 63kW and 145Nm.
Its performance is rated as on par with the 1.4 as well, capable of doing the 0-100km/h sprint in 11 seconds – compared with 10.5 in the 1.4. The zippy engine is matched to a five-speed manual transmission, or a five-speed Dualogic sports automatic option.
As previously reported, the 875cc TwinAir unit – weighing just 85kg – picked up a number of awards at the 2011 International Engine of the Year Awards, including the main 2011 Engine of the Year Award, and Green Engine of the Year Award.
One of the reasons is down to the low fuel consumption average, which is rated at just 4.0L/100km for the manual, and 3.9L/100km for the Dualogic – to give you an idea, the Toyota Prius is rated at 3.9L/100km. Official emissions ratings are similarly impressive, with 90g/km of CO2 for the auto and 92g/km for the manual – again, Prius is rated at 89g/km.
On the outside, the 2012 Fiat 500 TwinAir comes with matt black 16-inch alloy wheels, black trimming highlights, spotlights and silver side mirrors, while standard in-car kit includes a six speaker USB and Bluetooth compatible stereo, sporty seats, seven airbags and electronic stability control. Safety levels have been rated five stars by ANCAP.
The new 2012 Fiat 500 is $2000 cheaper than the respective 1.4 models they replace, while the 500C convertible versions are $3000 cheaper. Pricing is as follows (excluding on-road costs and charges):
Fiat 500 TwinAir manual – $22,990
Fiat 500 TwinAir Dualogic – $24,990
Fiat 500C TwinAir manual – $25,990
Fiat 500C TwinAir automatic – $27,990