BMW Australia is introducing the new BMW 520i and BMW 528i, both featuring different forms of the new N20 2.0-litre TwinPower turbo four-cylinder engine.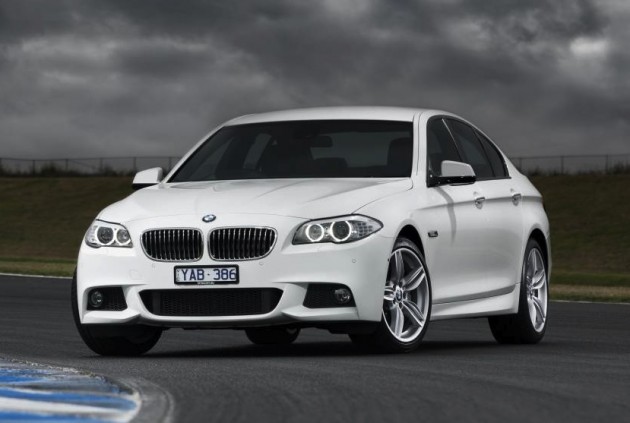 New BMW 520i
Like the upcoming F30 2012 BMW 3 Series BMW 320i, the new entry-level BMW 520i will feature a slightly de-tuned version of the 2.0-litre TwinPower four-cylinder petrol engine.
It may not be a outright barnstormer of an engine but it does develop a healthy 135kW of power and 270Nm of torque available from 1700rpm up to 4000rpm. This will undercut the current entry-level BMW 5 Series variant, the BMW 520d turbo-diesel, to be the new base-model 5er.
BMW says the new BMW 520i petrol is able to accelerate from 0-100km/h in 8.0 seconds as well as offer a fuel consumption rating of 6.4L/100km.
New BMW 528i
Another major change to the new BMW 5 Series range in Australia is the introduction of the new BMW 528i. The current/predecessor BMW 528i features the somewhat aged 3.0-litre naturally aspirated straight six engine. It now gets the full-cream N20 2.0-litre TwinPower turbo four-cylinder.
Like the new BMW Z4 sDrive28i announced last month, the new BMW 528i offers 180kW of power and 350Nm – down 10kW, but up 40Nm. A reduction in power is generally a bad thing in our books but in some circumstances, it can be for the greater good.
The addition of 40Nm will help pick the new BMW 528i up and spit it out of corners and motivate things during take off, as well as help keep the engine in its optimum powerband when driven with enthusiasm. Another upshot of the new engine is of course, a reduction in fuel consumption.
The previous 3.0-litre BMW 528i had a fuel consumption rating of 8.0L/100km, whereas the new BMW 528i 2.0-litre turbo presents a rating of 6.7L/100km. It's also able to sprint more rapidly from 0-100km, taking just 6.3 seconds compared with the 3.0-litre which takes 6.7 seconds.
New BMW 535i and 535d
Other interesting performance changes for the new BMW 5 Series range include a power hike for the BMW 535d, which features a 3.0-litre TwinPower turbo-diesel. Power is boost up from 220kW to 230kW thanks to slight engine revisions. It's now capable of sprinting from 0-100km/h in 5.5 seconds, compared with 5.7 of the old – incredible performance for a diesel. Fuel consumption is also reduced from 5.7L/100km to 5.6.
Some revisions to the new BMW 535i 3.0-litre turbo six have also been made, reducing its acceleration time for the 0-100km/h dash from 6.1 seconds to 5.9. Meanwhile, again, fuel consumption is reduced from 8.4 to 7.7L/100km.
Just about all new BMW 5 Series models have received a price cut, and come with additional extras on some variants. Pricing and the changes are as follows (MLP, without taxes etc.):
BMW 520i – $77,900
BMW 520d – $80,700, down from $83,300
BMW 528i – $98,200, down from $99,900
BMW 535i – $115,600, down from $129,600
BMW 535d – $120,900, down from $134,400
BMW 550i – $179,900, remains the same but comes with $3000 of added equipment.
The new BMW 520i and BMW 528i will arrive in Australian showrooms starting from November this year.