Porsche has officially unveiled the 2016 Porsche 911 '991.2' ahead of its Frankfurt Motor Show debut later this week.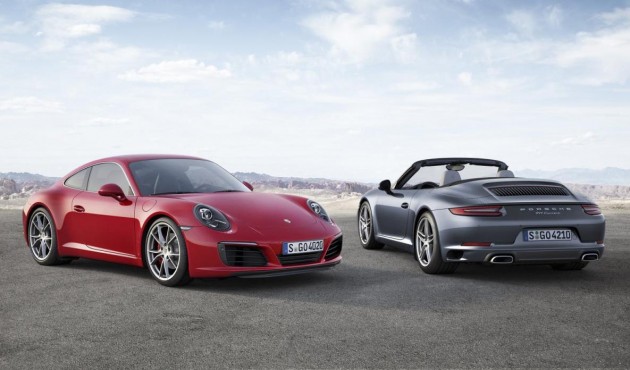 The company is promising an even greater spread of performance and comfort for the facelifted model, while bringing increased efficiency with a new 3.0-litre turbocharged engine.
For the entry 911 Carrera there's a 3.0-litre twin-turbo flat-six engine producing 272kW of power and 450Nm of torque. The torque is available from just 1700rpm and holds strong until 5000rpm. It can sprint from 0-100km/h in 4.2 seconds (with PDK auto and Sport Chrono pack).
Stepping up to the Carrera S, it gets a tuned version of the same engine producing 309kW and 500Nm. Matched to the dual-clutch PDK auto, the Carrera S can complete 0-100km/h in just 3.9 seconds (with Sport Chrono pack).
Downsizing and turbocharging has been implemented to improve fuel economy, by almost 12 per cent, Porsche says. On the combined cycle test the Carrera uses 7.4L/100km (down 0.8L), while the Carrera S uses 7.7L/100km (down 1.0L). Yet, both engines are capable of revving to 7500rpm.
Aside from the all-new engine, the 2016 911 has received some chassis tweaks and now comes with a four-mode driving toggle with Normal, Sport, Sport Plus, and Individual settings. Depending on the options fitted, these alter the PASM, active engine mounts, PDK shifting, and sports exhaust system.
In terms of specific underbody changes, the active suspension (PASM) sees ride height lowered by 10mm. An electronic noise-raise function is also optional, lifting the nose by 40mm at the touch of a button. All rear wheels now measure 11.5 inches in width (from 11.0), with the Carrera S getting 305 tyres (up from 295).
For the first time, Carrera S buyers can option for active rear axle steering that improves turn-in behaviour, while reducing the car's overall turning circle by 50cm. This technology trickles down from the 911 Turbo and GT3.
As for the in-car technology, Porsche has updated its communication management system (PCM). It now comes with voice control and caters for multi-touch gestures through a 7.0-inch display.
In other markets mobile phones will be capable of connecting via Wi-Fi, providing Google Eart and Google Streetview functionality. However, this tech won't be available in Australia until 2017. Apple CarPlay services will also be possible, but is delayed until 2018 until "back-end systems are in place".
And lastly, Porsche has revised the exterior design for the 2016 version. Most of the changes are very minor, with perhaps the most obvious being the engine cover which now features vertical slats instead of horizontal. There's also new headlights and LEDs, new door handles, taillights, and freshly-designed alloy wheels.
The 2016 911 will be unveiled at the Frankfurt Motor Show starting September 15, before going on sale in Australia in mid-March. Local starting prices are as follows (excluding on-road costs):
2016 Porsche 911 Carrera Coupe – $217,800
2016 Porsche 911 Carrera S Coupe – $252,800
2016 Porsche 911 Carrera Cabriolet – $239,300
2016 Porsche 911 Carrera S Cabriolet – $274,300