Bentley's first-ever SUV has been unveiled in concept form. Called the Bentley EXP 9 F – hardly the most inspiring name – the super-luxury SUV is likely to be the precursor to an upcoming production model.
The Bentley EXP 9 F concept is built around the company's traditional English theme with superior craftsmanship, luxurious appointments, and no compromise for comfort, quality and style. The SUV also gets advanced in-car technologies, and off-road capabilities.
Power for the concept comes from a 6.0-litre twin-turbo W12 engine, similar to the unit seen in other Bentley models, producing around 447kW and 800Nm. It's matched up to an eight-speed automatic transmission and an all-wheel drive system.
Styling-wise, the Bentley EXP 9 F concept features modern Bentley design themes, with circular headlights and solid bonnet and panel contours, as well as interesting highlights such as LED daytime running lights running around the perimeter of turbine intakes at the front corners.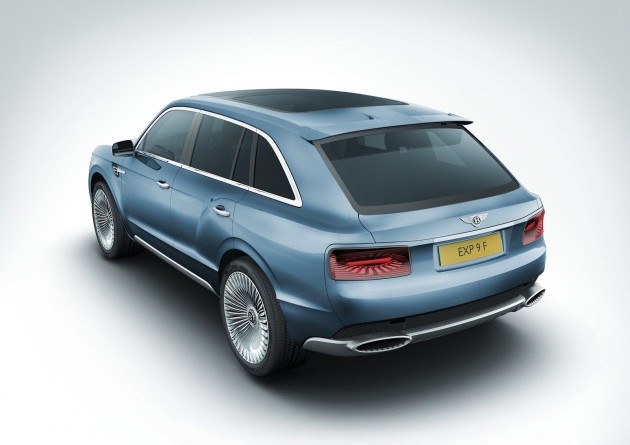 There's also perched rear haunches like on the Continental, a slab-style rear end, and a large two-piece glass roof.  Inside, the cabin pampers passengers in cream quilted leather, a polished wood dash, and aluminium and bronze trimmings throughout. Dirk van Braeckel, director of design, recently explained,
"The challenge for the interior design team was to create a cabin which provides a blend of luxury and utility. The result is a light and airy environment with a commanding view of the road and a versatile layout which showcases Bentley's craft and design language in an innovative and contemporary way."
As for market entry, credible reports say Bentley has given the go-ahead for a production version, taking much of its inspiration from this concept. It is believed it will hit showrooms by around 2015.