Following the public unveiling of the all-new Tesla Model 3 yesterday, company CEO Elon Musk has sent out a tweet confirming there has since been 180,000 pre-orders.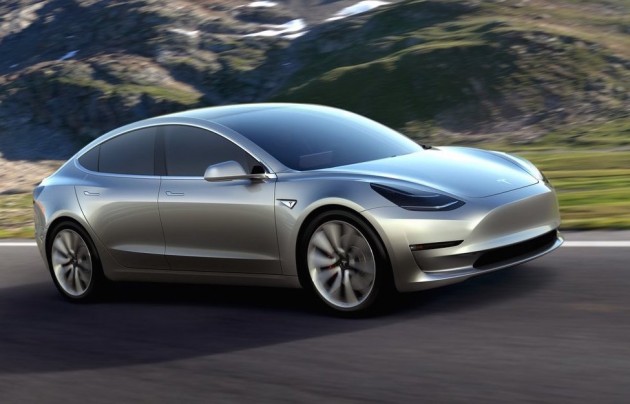 The Model 3 will be quite different vehicle to the Model S and Model X, both of which helped the company raise revenue to develop the Model 3. Unlike those two, the new mid-size sedan is being marketed as mass-produced vehicle kicking off at an affordable price.
In just 24 hours the company took in a whopping 180,000 orders, according to Elon Musk. Musk tweeted:
"Model 3 orders at 180,000 in 24 hours. Selling price w avg option mix prob $42k, so ~$7.5B in a day. Future of electric cars looking bright!"
Tesla set up an online order system which allowed customers to pre-order the car, requiring a refundable US$1000 deposit, or AU$1500 here in Australia.
Attraction to the car has well exceeded the hype, even here in Australia. Punters were camping outside local dealerships to get their order in as soon as possible, and this is despite Australian prices not being announced yet.
Elon Musk confirmed yesterday the Model 3 would start at US$35,000, with an Australian price likely to be around the $50-60,000 mark. Musk said that even if customers select no options at all they will be getting "an amazing car". Musk said:
"You will not be able to buy a better car for $35,000, or even close, even you get no options."
So far it has been confirmed the Model 3 will come with Autopilot hardware as standard, and all Autopilot safety features as standard on all models. It will also come with front and rear boots and the largest cargo capacity in its class, a glass roof, a massive on-board touch-screen, and Supercharging capability, all as standard.
Deliveries will kick off in late-2017, with existing Tesla customers set to get priority on deliveries. An Australian introduction will probably take place early in 2018. Interested buyers can head over to the Tesla website to place an order.
UPDATE: Model 3 orders hit 253,000 in the first 36 hours. That already hits half of the company's aim to produce 500,000 vehicles per year by 2020. Needless to say, we think buyers will be waiting longer than expected for their Model 3 order.