Lotus has unveiled the new Lotus Exige S Roadster at the 2012 Geneva Motor Show, currently underway in Switzerland. The new model will go on sale in Asian and European markets, and could be headed for Australia.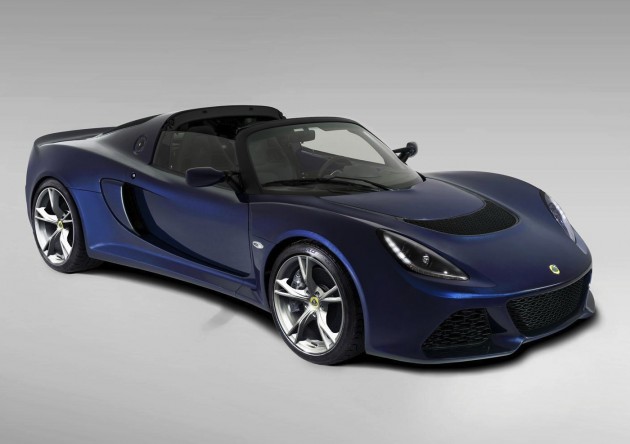 Based on the lightweight Lotus Exige coupe, the Lotus Exige S Roadster gets the 3.5-litre supercharged V6 engine as seen in the bigger Evora. It produces 257kW of power and 400Nm of torque, matched up to a six-speed manual or an optional Serial Precision Shift (SPS) paddle-shift semi-automatic.
With a target weight of just 1100kg, it is going to be one the, if not the, lightest weight six-cylinder vehicles on the market. Lotus says 0-100km/h takes just 4.0 seconds, while top speed is 233km/h. As a bonus, the average fuel consumption is set to be 10.1L/100km – not bad for supercar performance.
As for the Roadster body, the tones and character of the conventional Exige coupe are still present, however, behind the cabin there is a buttresses that rises up to meet the roof, while forming a set of B-pillars. With the roof off, the minimalistic-themed interior is exposed.
Other highlights include a sports adjustable suspension system with two settings selectable in the car; normal and race. In normal mode the suspension is comfortable for street driving, while in race model it becomes much stiffer, and more suitable for track or tight windy road use.
PerformanceDrive spoke with Edward Rowe, public relations manager of Lotus Australia, about the possibility of an Australia launch. Rowe said that the local arm has put its hand up for the new model, hoping it will become part of the Australian range after it is launched in Europe.