The Australian new vehicle registration VFACTS figures are out for the first month of 2015, where we can see what models are getting the jump for the start of the year.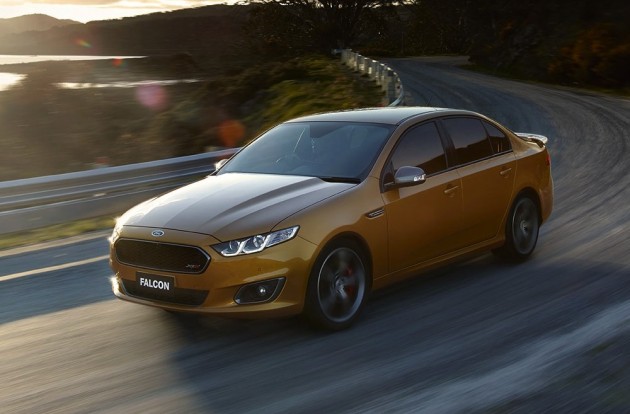 After setting records last year, the Toyota Corolla has been knocked from top spot for January by its arch rival, the Mazda3. Meanwhile, locally, the highly anticipated Ford FG X Falcon hasn't been as popular as we all expected. In fact, it reported the lowest monthly sales figure ever in the nameplate's history.
As far as how manufacturers went, most reported big drops compared with the previous month (December). This is quite understandable though given January is generally a busy holiday period. For the first month of the year Toyota is setting the pace, as usual, with Mazda following in second. Holden has climbed back up from fourth spot and now sits in third. Ford has also jumped one ahead and now sits in fifth, while Subaru punches Honda out for ninth. The top ten brands for January 2015 were as follows:
Toyota – 13,661 (down from 19,015 of December 2014)
Mazda – 9006 (up from 8731)
Holden – 8401 (up from 7752)
Hyundai – 6901 (down from 7657)
Ford – 5357 (down from 5936)
Nissan – 4537 (down from 5869)
Volkswagen – 4397 (down from 4539)
Mitsubishi – 4080 (down from 7438)
Subaru – 3104 (down from 3431)
Honda – 2703 (down from 3758)
As for the most popular car model, the Mazda3 and Toyota Corolla continue their battle from last year. However, it must be noted Mazda is off a great start, edging well ahead of the Corolla.
A little further back, the Holden Cruze has actually overtaken the Commodore in the top five, giving us some indication of why the Commodore will go out of production in a couple of years. The Ford Ranger ute matched the Commodore's 1784-unit sales figure. The top five models in terms of outright sales for January 2015 were as follows:
Mazda3 – 3903 (up from 3803)
Toyota Corolla – 3472 (down from 3546)
Toyota HiLux – 2331 (down from 3330)
Hyundai i30– 2092 (down from 2828)
Holden Cruze – 1870 (up from 1541)
Starting in the segments, the Medium Cars under $60,000 category, there's no surprises as the Toyota Camry easily outsold its nearest competitor. The score was 1133 units versus the Mazda6's 450 units. Rounding out the top three was the Subaru Liberty with 239 sales. The Subaru nudged out the Ford Mondeo (59) and Volkswagen Passat (220) that usually occupy this space.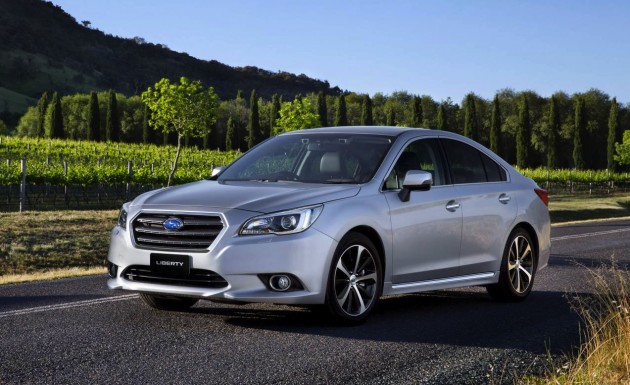 Up in the premium Medium Cars over $60,000 class, the Mercedes-Benz C-Class is setting a commanding pace against the top rivals. It not only bettered its rivals, it also bettered its effort of December and November. BMW's 3 Series is back in second spot. The top five in this segment were as follows:
Mercedes-Benz C-Class – 823 (up from 647 of December)
BMW 3 Series – 327 (down from 354)
Mercedes-Benz CLA-Class – 254 (down from 322)
Lexus IS – 180 (down from 208)
Audi A4 – 128 (down from 193)
As for the homegrown heroes, the Large Cars under $70,000 segment saw some disappointing figures. The Holden Commodore reported dismal sales, selling over 500 fewer units than the same month last year. The Ford FG X Falcon walked with its head down in shame as well, recording its lowest-ever monthly sales figure. Holden sold 1784 examples, followed by 381 examples of the Ford, and Toyota shifted 241 Aurions.
For those with a little more gumption, the Large Cars over $70,000 segment proves the BMW 5 Series to be the most popular in January. It pushed out the Mercedes E-Class for the first time in a while. In fact, Jaguar overtook the Merc for second place. The top five in this segment were as follows:
BMW 5 Series – 102 (up from 59)
Jaguar XF – 64 (down from 72)
Mercedes-Benz E-Class – 59 (down from 145)
Audi A6 – 11 (down from 67)
Lexus GS – 10 (down from 22)
Kicking off the driver's car segments, the Sports Car under $80,000 class showed some close results. The Toyota 86 only just bettered the Hyundai Veloster for sales. Meanwhile, sticking in third place was the Audi A3 Convertible, although the Subaru BRZ is catching. The top five models in the category were as follows:
Toyota 86 – 233 (down from 329 of December)
Hyundai Veloster – 222 (up from 212)
Audi A3 Convertible – 98 (down from 115)
Subaru BRZ – 90 (down from 170)
BMW 1/2 Series Coupe/Convertible – 81 (down from 89)
(Subaru WRX – 273 [down from 328] – not officially in this segment)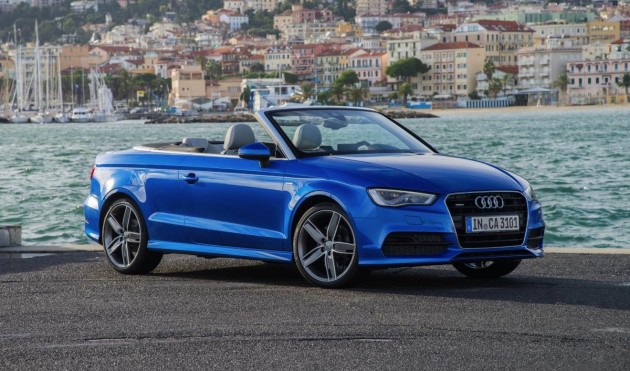 In the more sought-after Sport Cars over $80,000 class, the BMW 4 Series is still shining bright. Audi moves up into equal second position thanks to slumping Mercedes C-Class Coupe sales, while the new Lexus RC is hanging in there with fourth spot. The top five in this category were as follows:
BMW 4 Series Coupe/Convertible – 150 (down from 159)
Mercedes-Benz C-Class Coupe – 48 (down from 140)/Audi A5 – 48 (down from 64)
Mercedes-Benz E-Class Coupe/Cabrio – 41 (down from 88)
Lexus RC – 34 (down from 59)
Porsche Cayman – 21 (up from 12)
The Sport Cars over $200,000 segment might not have been a popular one over Xmas, but it looks like there were a few lucky ones. Porsche sold an impressive number of 911s, while 6 buyers got hold of the new BMW i8. The top five in the category during January 2015 were as follows:
Porsche 911 – 41 (down from 31)
BMW 6 Series – 18 (down from 23)
Ferrari (models not specified) – 16 (up from 13)
Maserati (models not specified) – 10 (up from 6)
Aston Martin (models not specified) – 10 (up from 9)
Okay, so enough of the dreaming. It's time to go to work, and the 4×4 ute class is where it will help you. Toyota dominated with the HiLux in January, reporting 1648 sales, but the Ford Ranger is catching up, with 1470 sales. The third most popular 4×4 ute for the month was the Holden Colorado with 1314 sales.
As for the Combined 4×2 and 4×4 ute sales, it's a similar story for Toyota. However, almost all sales were down on the previous month, by quite a margin. There was a bit of shuffling around too, with the Holden Colorado moving up to third place, and the SsangYong Actyon Sports entering the top 10 for the first time. The top ten 4×2 and 4×4 combined figures for January 2015 look like this:
Toyota HiLux – 2331 (down from 3330)
Mitsubishi Triton – 1034 (down from 3420)
Ford Ranger – 1784 (down from 1988)
Holden Colorado – 1543 (up from 1295)
Mazda BT-50 – 1193 (up from 1126)
Nissan Navara – 1040 (down from 1114)
Isuzu D-Max – 644 (down from 1775)
Volkswagen Amarok – 512 (down from 960)
Ssangyong Actyon Sports – 18 (up from 9)
Great Wall V240 – 14 (down from 42)
To finish off, the very popular SUV segments were shaken up by the start of the year and holiday period. Some vehicles reported very impressive figures, while others missed out on the party.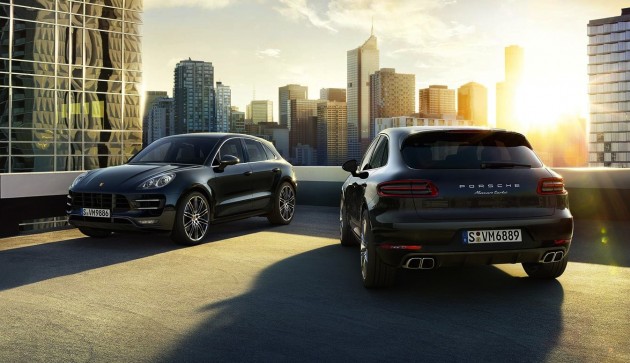 The Mazda CX-5 regained control of the entry class, reporting big figures. As did the Mitsubishi ASX. Up in the premium class the Land Rover Discovery pushed out the Mercedes M-Class, while the new Porsche Macan is off to a superb start, nudging the BMW X3 from the top three in its segment. The Audi Q5 also recorded great figures in the same segment. In all SUV segments the top-sellers for January 2015 were as follows:
SUV Small under $40,000:
Hyundai ix35 – 1636 (down from 1697)
Mitsubishi ASX – 869 (down from 918)
Nissan QASHQAI – 784 (up from 546)
SUV Small above $40,000:
Audi Q3 – 283 (up from 168 )
Mercedes-Benz GLA-Class – 265 (up from 137)
BMW X1 – 103 (down from 154)
SUV Medium under $60,000:
Mazda CX-5 – 1699 (up from 1717)
Toyota RAV4 – 1401 (down from 1766)
Nissan X-Trail – 1171 (down from 1279)
SUV Medium above $60,000:
Audi Q5 – 479 (up from 286)
Range Rover Evoque – 230 (up from 214)
Porsche Macan – 189 (up from 139)
SUV Large above $70,000:
BMW X5 – 273 (down from 275)
Land Rover Discovery – 226 (up from 199)
Land Rover Range Rover Sport – 214 (up from 206)
SUV Upper Large under $100,000:
Toyota LandCruiser – 530 (down from 797)
Nissan Patrol – 200 (up from 189)
Total new vehicle sales in Australia in January were down on December's effort, with 82,116 sales in January compared with 92,232 in December. Overall sales were down 0.2 per cent on January 2014 figures as well.
As for what fuel types buyers went for in January, diesel numbers dropped while petrol remained steady. The figures for private buyers in terms of vehicle fuel were as follows (passenger, SUV, and light commercial combined):
Petrol – 37,744 (up from 37,147 of December)
Diesel – 10,633 (down from 13,678)
Hybrid – 228 (down from 268)
Electric – 29 (down from 38)
LPG – 8 (down from 9)