Audi has revealed plans to introduce an all-new 'Q6' SUV, which will be ready to take on the likes of the segment-starting BMW X6 and the new Mercedes-Benz GLE-Class.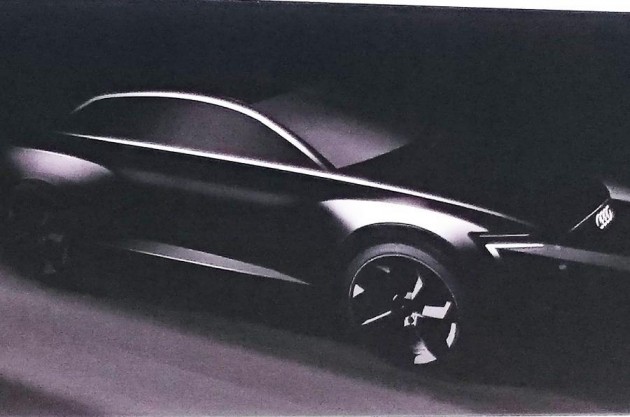 Four-door coupes are becoming increasingly fashionable, and they are no longer limited to sedan-based vehicles. This image, which was revealed at Audi's annual press conference for a brief moment, shows us what Audi is thinking for its take on the segment.
The vehicle will be based on the new Q7 SUV that was unveiled earlier this year, only instead of the usual lineup of turbocharged petrol and diesel engines, the Q6 – name yet to be officially confirmed – is set to come with a fully electric powertrain.
According to an Autocar report, where the image above first appeared, a whopping 100kWh battery pack will power the sleek off-roader. This is expected to help provide a reasonable range for the large and relatively heavy model. It is likely to be very powerful nonetheless, considering the R8 e-tron supercar features a 90kWh battery.
The move to go electric would mesh in well with previous reports of Audi looking to introduce an electric SUV to target the likes of the the upcoming Tesla Model X, although it was previously thought to be called the Audi Q8.
Also, Audi will be looking to pass new regulations going in place in parts of the US in the future. The new regulations state that 15 per cent of all new cars sold will need to be electric by 2025, obviously putting pressure on all carmakers to at least offer a small range of EVs by that time.
According to Ulrich Hackenberg, Audi's development boss, the design of the new SUV will take a lot of inspiration from the Prologue concept. The Prologue was styled by Marc Lichte, the company's new design boss, showcasing the future styling direction for all Audi vehicles.
Interestingly, Hackenberg said the MLB platform that underpins the new Q7 was developed to accommodate new-age powertrain technologies such as plug-in electric and gas-powered systems from the beginning. As such, a smaller version of the platform is set to be used for the next-gen A4 and a potential 'g-tron' gas variant.
At this stage it's unknown if Audi will offer the Q6 in any other powertrain option aside from the 'e-tron' electric. It does seem likely that petrol and diesel options will be added to the range though, leaving the e-tron to sit in as the flagship model. A full debut is tipped to take place later in 2017.