Following last week's leaked front end image of the facelifted LandCruiser 200, more pictures have emerged on social media showing the exterior in full.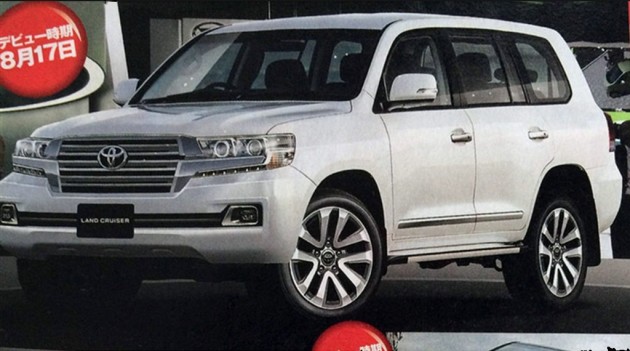 First posted by Instagram user @hamad1two3, the images come from what appears to be a Japanese Domestic Market brochure. Although, it is not yet confirmed if it is official. It shows changes to headlights, a bolder front grille, and new taillights, including the now de rigeur LED treatment.
Revisions to the instrument cluster and centre stack appear to be part of this refresh, with new trim and woodgrain options highlighted in the brochure. A new multimedia interface is expected too, in line with some of it's newer showroom companions. Rear seat entertainment is also displayed in the brochure.
If accurate, this is the first substantial revision to the 200-series LandCruiser since it's 2008 release. It is presently available with either a 4.7-litre petrol V8, or a 4.5-litre turbo-diesel V8. No word yet on whether Toyota will revise the engine range, or persist with the existing lineup.
With a staggering 81.4 per cent market share year-to-date in the Upper Large SUV market (under $100k), the LandCruiser currently enjoys a healthy lead over it's evergreen Nissan Patrol rival , which, at 18.6 per cent year-to-date, may be attributable to the lack of a diesel engine option.
This facelift can only increase the showroom appeal on one of the automotive industry's most venerable battleaxes. International reports are pegging 2016 as the launch date for the revised 'Cruiser, with an unveiling later this year.