The Toyota Prius is hardly a mecca for performance tuning and aftermarket enthusiasts, however, it seems bodykit specialist Wald International has developed somewhat of an upgrade package for the new model.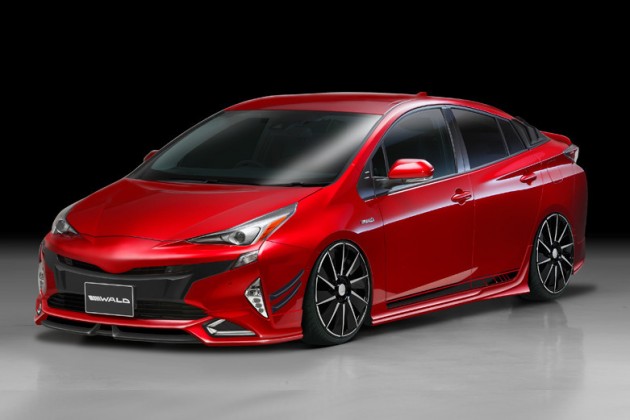 Toyota revealed the new-look Prius last year, showcasing a sharper design with some subtle performance-like tones, such as an aggressive and pointed front end, angular headlights, and more defined body contours.
Wald International, a renowned tuner particularly in Toyota and Lexus realms, has extended on these factory traits with a rather serious bodykit proposal.
It is only in prototype stage at the moment but as you can see by these digital renderings, the front end will house an extremely low bumper bar upgrade complete with intricate fins and intakes, as well as carbon fibre side winglets.
Keeping with the low theme, there's a set of side skirts added on that extend the body for a ground-hugging race car look, as well as some black trimmings/decals along the bottom of the doors.
Around at the back is a chunky diffuser in black, with fins, along with an extended bumper bar to match the side skirts. The diffuser surrounds the fashionable four-outlet exhaust setup. Topping it all off is a set of machined-face alloy wheels with black inner spokes.
There is no mention of any under-bonnet work, but in traditional Wald fashion, the factory setup is likely to be left untouched. In standard form the new Prius uses a 72kW 1.8-litre four-cylinder paired with a 53kW electric motor assist system.