The new Volvo V8 Supercar has been unveiled at the foot of Sydney's most famous landmark, the Harbour Bridge. The new racer will compete in this year's championship with Scott McLaughlin and Robert Dahlgren behind the wheel.
Based on the Volvo S60 road car the S60 V8 Supercar is built on the Car of the Future platform introduced last year, and adheres to all regulations. These include independent rear suspension, 18-inch wheels, and a new safety fuel cell setup in front of the rear axle.
Power comes from a Yamaha-derived 5.0-litre naturally aspirated V8 engine producing around 475kW of power. It's able to scream to 7500rpm thanks to eight individual throttle bodies, port injection, and double overhead camshafts.
Aside from the massive technical exercise that Volvo had to endeavour to create the car, the racer marks a significant milestone in Australian motorsport history. Last year was the 15th anniversary since Jim Richards and Rickard Rydell won the Bathurst 1000 in a Volvo S40 touring car.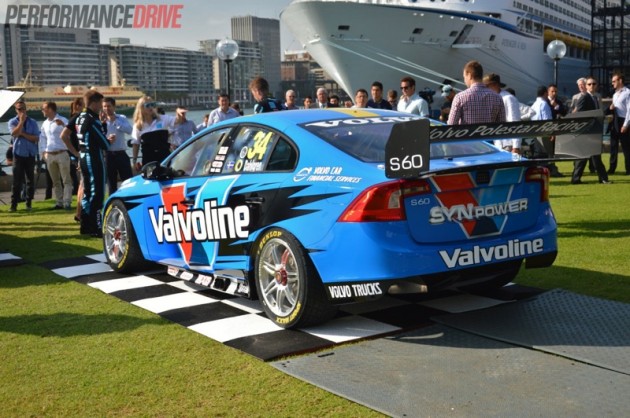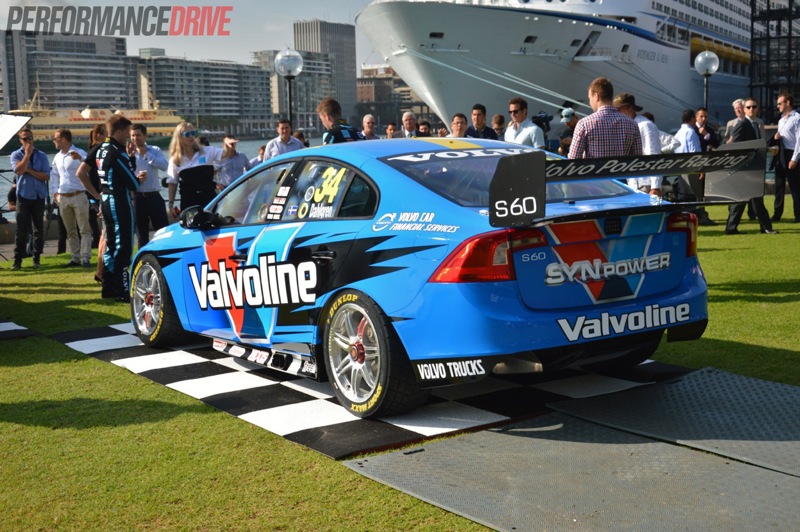 Mark Braid, Volvo Car managing director, spoke about the car at its unveiling in Sydney, saying,
"This is an historic day in the history of Volvo Car Australia. As the first luxury car manufacturer to enter V8 Supercars with a factory team, we're delighted to reveal our Volvo S60 race car to meet the challenge of the world's toughest touring car series and strengthen the presence of the S60 model line – and Volvo brand – here in Australia."
The team will be run by Volvo, Polestar (Volvo's official motorsport partner), and Garry Rogers Motorsport.
The first race of the season will take place in Adelaide at the Clipsal 500. However, the first official testing day will be run on February 15 at Sydney Motorsport Park.
We managed to grab a quick start-up video capturing the sound of the Volvo V8. Click play below to have a listen.
Specifications:
| | |
| --- | --- |
| Vehicle | Volvo S60 |
| Engine | Modified Volvo B8444S (see below) |
| Transmission | Control Albins ST6 6 speed sequential Transaxle with integrated spool differential |
| Front suspension | Double wishbone suspension, adjustable damper and cockpit adjustable front anti-roll bar |
| Rear suspension | Control independent rear suspension, adjustable damper; cockpit adjustable anti-roll bar |
| Front brakes | AP Racing 6 piston caliper, 395mm ventilated discs |
| Rear brakes | AP Racing 4 piston caliper, 355mm ventilated discs |
| Wheels | Control Rimstock 18" x 11" forged aluminium |
| Tyres | Dunlop control tyre |
| Weight | 1410KG (includes driver) |
| Top speed | 298+ km/h |
| 0-100km/h | 3.2 seconds |
| Steering | Custom rack and pinion power assisted steering |
| Shocks | Ohlins TTX Dampers |
| Electronics | MoTec ECU and Data Logging System |
Engine technical information
| | |
| --- | --- |
| Block | Modified Volvo B8444S, 60 degree aluminium cylinder block |
| Heads | Modified Volvo B8444S, aluminium |
| Bore x Stroke | 95.5 x 87.1 |
| Capacity | 4989cc |
| Compression |  10:1 |
| Power | 650bhp (estimated) |
| Max revs | 7500rpm |
| Induction | Naturally aspirated, eight throttle bodies |
| Fuel | E85 |
| Liners | Cast in steel liners |
| Valve train | Double overhead camshafts, direct acting tappets, chain drive |
| Ignition | Volvo B8444S coil on plug |
| Injection | Port injection, one injector per cylinder, injection pressure: 5.5 bar |