Audi has confirmed that it plans to produce a new range-topping Q8 SUV to take on the likes of the BMW X6 and upcoming Mercedes-Benz MLC, in the high-end coupe SUV class.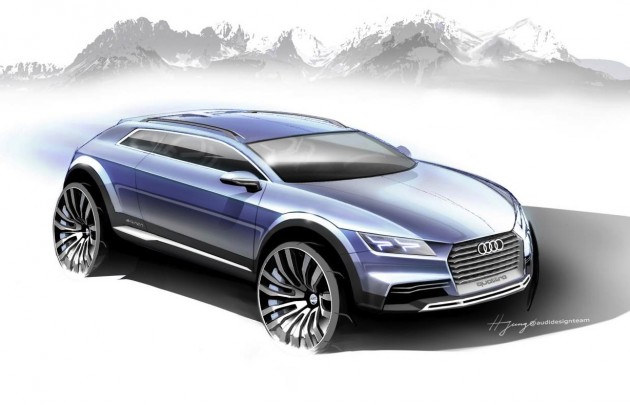 The Q8 is set to lock horns with the likes of the BMW X6, Range Rover Sport and upcoming Mercedes MLC in what is arguably one of the most competitive high-end SUV market segments.
Speaking with press at the Los Angeles motor show, technical chief at Audi, Ulrich Hackenberg, was quoted in an Autocar report as saying,
"The Q8 will come… It will be something new, following designs established on the Prologue concept. It will be positioned as something more emotional and more sporty than the Q7. The Q7 will be a car for seven people, the Q8 will be more coupe-like."
Performance and technology-wise, the Q8 is expected to be on par with the flagship A8 model, as the Q8 is set to be Audi's flagship SUV. A range of V6 and V8 petrol and diesel engines will be offered, alongside plug-in hybrids and possibly an all-electric version to rival the upcoming Tesla Model X SUV.
Audi's growth strategy plans to produce 11 new models before the end of the decade, with five of those models being SUVs; the Q1, Q2, Q4, Q6 and the Q8. Audi forecasts that by 2020, 40 percent of its annual sales will come from a variant of its SUV lineup.
Audi chairman Rupert Stadler said earlier this year that he sees "a great deal of potential, particularly in the SUV segment and in the especially prestigious full-size category". Therefore, an ever-expanding SUV lineup is potentially great business for the German manufacturer.
The Q8 will be based on the next generation Q7 platform and is confirmed to be one of the last Audi models produced with the current design language, but will have visual differences inside and out from the Q7.
The utilisation of aluminum, thinner-gauge high-strength steel and carbon-fibre-reinforced plastic, is expected to reduce weight by 300kg in the Q7, and bring the kerb weight for the base Q8 below 2000kg.