The hardest hitting version of the W213 E-Class has been revealed in the form of the Mercedes-AMG E 63 and E 63 S.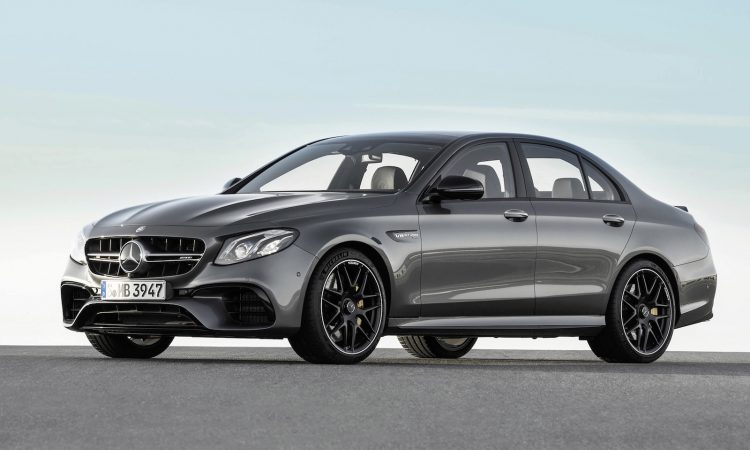 Gunning for large executive sedan supremacy, the E 63 and E 63 S rivals the likes of Audi RS 6 and BMW M5. The newest offering from AMG's Affalterbach headquarters is powered by a 4.0-litre twin-turbo V8, with twin scroll turbochargers. To assist with fuel consumption, there is cylinder-deactivation technology.
Power is channeled through a nine-speed multi-clutch automatic gearbox and a sophisticated all-wheel drive system. The standard E 63 makes 420kW of power and 750Nm of torque, for a 0-100km/h time of 3.5 seconds.
The E 63 S ups the ante to 450kW and 850Nm for a 3.4-second sprint to 100km/h, and a 250km/h limited top speed. This can be raised to 300km/h with the AMG Driver's Package.
The AWD system, called 4Matic+, incorporates a new Drift Mode and can switch to rear-drive only when the stability control is switched to 'Race' mode.
Styling-wise, the car is far more aggressive than its donor, with flared wheel arches, a completely different front-end treatment and wider openings, and front and rear spoilers with a traditional quad-outlet exhaust system.
For comparison the current and soon to be replaced M5 makes 423kW and 680Nm from its 4.4-litre twin-turbo V8. Its G30-based successor will be faster and AWD only too.
Audi's current RS 6 Performance makes 445kW of power and 700Nm, for a 3.7-second 0-100km/h time, comfortably eclipsed by the new E 63 and E 63 S.
Australia currently only gets the E 63 S, from $249,545, and that is likely to continue with the new model. Pricing should be similar when it arrives some time next year.