For front-wheel drive performance car enthusiasts, the MINI Cooper S has always been the bee's knees. Not only is it a well-executed modern interpretation of something that was both cool and capable to begin with, the modern versions are also properly quick. Now there's an all-new model out, which is larger, more powerful, and heavier, but it is more efficient and easier to drive on the limit. For the diehard fans, could this be venturing too far away from the Cooper's true heritage? Let's find out.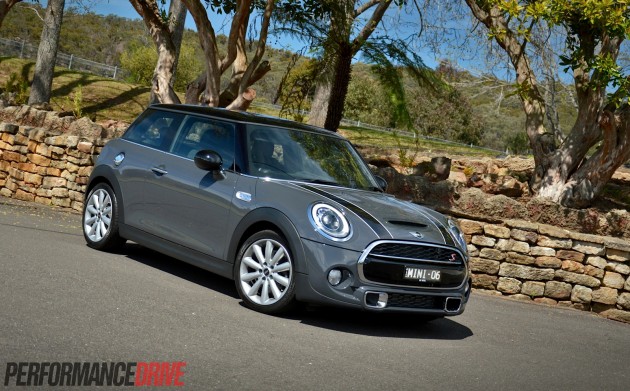 Although it looks pretty much the same as the 2013 version, if you concentrate a bit harder you'll notice the longer snout at the front and protruding grille. You'll also notice the dressed up headlights and taillights, and the longer wheelbase and longer overall dimensions; 2495mm versus 2467mm (2013), and 3850mm versus 3729mm, respectively.
The engine in the frisky Cooper S has also grown, from 1.6 litres to 2.0 litres. It now produces 141kW of power (up from 135kW), while torque is boosted to 280Nm (from 240Nm). As is the way with vehicle evolution at the moment, the new model is considerably more fuel efficient, presenting an official average of 5.5L/100km (down from 6.7).
Finally, the prices have been revised for the better. The MINI Cooper S has always been a rather expensive package, considering its size. This is partly due to Australians being consistently ripped off by taxes and carmakers choosing to put their prices too high. But for the new MINI Cooper the outlay required has dropped. Starting prices for the regular Cooper kick off at $26,650, which is not bad for a genuine European product made by BMW, and $36,950 for the Cooper S. This automatic example starts at $39,300. The new price is much more reasonable than the same spec predecessor that started at $43,050.
2014 MINI Cooper S – THE SPECS
Engine: 2.0-litre turbo four-cylinder
Output: 141kW@4700-6000rpm / 280Nm@1250rpm
Transmission: Six-speed auto
Drive type: Front-wheel drive, locking differential
Wheels: F: 17×7.0, 205/45  R: 17×7.0, 205/45
ANCAP: New model not tested (MY2013 5 stars)
Kerb weight: 1175kg
Power-to-weight: 8.3:1 (kg:kW)
Official fuel economy: 5.5L/100km
Economy during test: 8.2L/100km
Fuel capacity/Type: 44L/95 RON
Power efficiency: 25.6kW:L/100km
0-100km/h as tested: 6.6 seconds
Priced from: $39,300 (auto)
2014 MINI Cooper S – THE PACKAGE
So the MINI has grown. It looks it and it feels it. The increased wheelbase provides an airier cabin atmosphere than the last version, not that it was claustrophobic in the first place. MINI cleverly pushes the dashboard right out to near the base of the windscreen, like it did decades ago with the original Cooper. This leaves plenty of room around the bottom of the dash and centre console. Places to put your phone and accessories are still limited, though.
Headroom is plentiful for average-height motorists, and you have the ability to lower the driver's seat right down so you're basically sitting on the floor, like in a go-kart. Restricted legroom in the back means adults aren't going to be as comfortable as in the front. Although, rear headroom is not bad for this style of vehicle. The new model does feel roomier and more liveable overall. It's still full of character and the layout is quite busy and can be overwhelming at first, but this just means it will take longer before you get bored of it (if you ever do).
Sitting in front of the driver is the introduction of a retractable piece of tinted plastic that rises up like something out of Space Invaders. This panel is used for the head-up display. Instead of using the traditional method of reflecting speed readouts and other information off the windscreen, the MINI has to use a separate piece of shield due to the unique spectacle-like windscreen. We aren't too fond of it as it tends to distract you and interfere with your vision. For our time with the car we left it tucked away in the depths of the dash. (There is a digital speed readout just behind the steering wheel as well.)
Speaking of spectacles and the dash, one of the first things you'll see inside is the huge ring on the centre fascia – a design which is carried across since the first of the new-generation MINIs. In the new model it behaves like a pulse. It brightens and changes colour every time you turn the volume or change the climate control temperature. It's fun and certainly brings energy to the cabin; even if you're travelling by yourself it feels like the car is your friend. And then when you select between the driving modes – Green, MID and Sport – the ambient lighting changes colour to suit. It's cool. In addition, the Cooper S now gets optional Dynamic Damper Control suspension with adjustable settings, supplementing the driving modes.
In terms of equipment the 2014 model is smarter than ever and is now equipped with dual-zone climate control as standard, as well as the full BMW iDrive-style interface with satellite navigation, also as standard. You can opt for the 'Professional' grade navigation for only $200. In fact, it seems as though MINI Australia has revised pricing for many of the options so they are now more accessible. You can option for 18-inch wheels too ($700), whereas previously it could only be had with various styles in 17-inch size.
2014 MINI Cooper S – THE DRIVE
Firing up the engine is something you will appreciate doing every morning in the Cooper S. It grumbles into life, farts and pops, before settling down to a deep bassy burble. We couldn't help but feather the throttle every now and then to enjoy another round of this. The new 2.0-litre engine definitely sounds more impressive than the previous 1.6. There is a certain fullness to it which tends to make you take it more seriously.
Starting with the drive around town, the new Cooper S is more adaptive. It can sift and surge through traffic a lot easier thanks to the bigger engine and increased torque, and with 280Nm coming on strong from just 1250rpm it is happy to poke in and around small streets and whiz up little hills, even with a full car load. During all of this you can continue to relish in the rally-car-like soundtrack including the distinct burp between upshifts.
Once the working week is over, you'll want to get this baby out onto your favourite driving road. And it's here where you'll notice a slight personality change from the old model. We're not going to say it's gone soft, but it is softer. There is now a hint of body roll, something never previously seen in a Cooper, and if you push it you will be presented with mild understeer. A locking differential ensures zero inside wheel wheelspin however, and it tends to return to a neutral balance when you throttle around corners, as opposed to rolling around them – not something you should be doing during enthusiastic driving anyway.
We think we know what MINI is trying to do here. By making it a touch softer and less on-the-edge, more drivers will be able to exploit more areas of the car's capability. A wider range of drivers will also be able to drive it quicker and feel safer doing it. For the hardcore driving fans like us, we preferred the darty, snappy attitude of the previous version when driving vigorously. But hey, it's difficult to have the best of both worlds. As an upshot, the Cooper S is now far more composed tackling bumpy bends, and it offers a better ride and increased comfort.
Most old-school drivers will probably prefer the six-speed manual transmission, but here with the six-speed auto we can tell you it is quite dynamic. For some reason MINI has chosen not to provide paddle shifters, so instead you have to use the gear lever to tap forward and back. Aside from this minor lack of interaction, the transmission is super-quick and offers a perfect set of ratios for the engine. In Sport mode it will kick down nice and early and it holds the revs all the way out to the red area of the tacho. The transmission helps the Cooper S become a brilliantly swift and exciting performer. We timed 0-100km/h in 6.6 seconds. This is a lot quicker than the previous version (7.2 seconds for the auto).
Finally, fuel economy is big priority for new car buyers. In the real world we averaged 8.2L/100km in this auto version, which is nowhere near the official 5.5L/100km average. Even so, it is more efficient than the predecessor. With more power and decreased consumption, the new model obviously offers a better power efficiency (engine power output divided by the official average economy); 25.6kW:L/100km versus 20.1kW:L/100km of the old.
2014 MINI Cooper S – THE VIDEO
2014 MINI Cooper S – THE VERDICT
Despite the larger size and somewhat softer chassis setup, the new Cooper S is still one of the best little hot hatches around. It has become more capable for a wider variety of drivers and it can behave more confidently in a wider range of conditions. For driving enthusiast, the crackle and splutter on the overrun will make you smile like a child – like it did for us – and the impressive torque translates to improved point-to-point performance.
PROS:
– New model sees price drop
– Proper rally-car soundtrack, sounds awesome
– Strong torque, especially from low revs
– More efficient than predecessor
– Offers a broad range of driving performance

CONS:
– Still some tackiness to the interior
– More understeer
– Become a bit soft?
2014 MINI Cooper S – THE COMPETITORS
Abarth 595 Turismo
1.4-litre turbo four-cylinder – 118kW-230Nm – 6.5L/100km – 1062kg – from $35,500
Audi A1 Sport
1.4-litre turbo and supercharged four-cylinder – 136kW-250Nm – 5.9L/100km – 1290kg – from $39,900
Ford Fiesta ST
1.6-litre turbo four-cylinder – 134kW-240Nm – 6.2L/100km – 1197kg – from $25,990
Volkswagen Polo GTI
1.4-litre turbo and supercharged four-cylinder – 132kW-250Nm – 6.1L/100km – 1189kg – from $29,540