In one of the most teased arrivals in the automotive world, the 2017 AMG GT-R has made its official debut.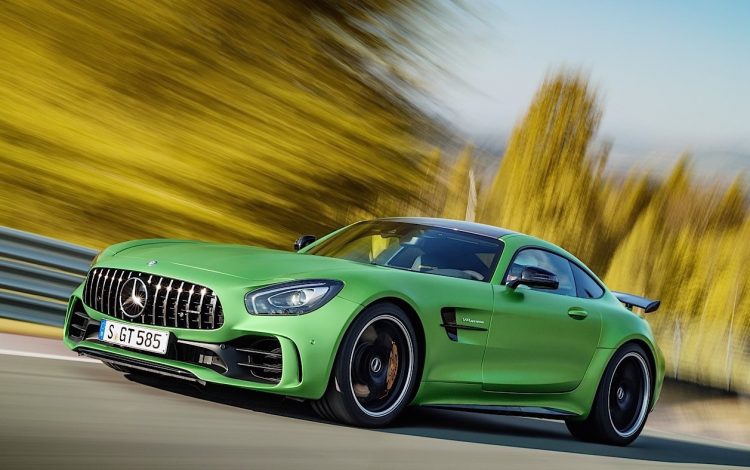 Rumours are now irrelevant, because the gospel is here. The 2017 AMG GT-R will be powered by a 430kW/700Nm 4.0-litre twin-turbocharged V8. This represents a 55kW and 100Nm increase over the stock AMG GT, setting a 0-100km/h time of 3.6 seconds, and a top speed increased to 318km/h.
Power is transferred to the rear wheels via AMG's seven-speed dual-clutch transmission, in transaxle configuration. This helps the AMG GT R's weight distribution for a more rear-oriented 47.3:52.7.
AMG has tinkered with the GT R's rear axle, most significantly, installing a rear-wheel steering system which allows for a 1.5-degree angle change at speeds up to 100km/h.
Combined with AMG's new active aerodynamics package, more than likely the result of AMG having seduced a former Porsche chassis engineer to work on the GT R. The end result is an active aero package made up of retractable air intakes, adaptive underbody, double diffuser at the back, and a retractable wing that can reduce front axle lift by 40kg, and an increased coefficient of drag over the GT and GT S.
AMG's exclusive new "AMG Green Hell Magno" harks back to the vehicle's development on the infamous Nordschleife, the northern section of the Nürburgring's circuit known affectionately in Germany as "Green Hell".
The forged wheels are now wrapped in 275/35 ZR 19 front, and 325/30 ZR 20 rear Michelin Sport Cup 2 tyres. Tobias Moers, CEO of Mercedes AMG, said:
"With the new AMG GT R, we have reached the next level of driving performance… It combines the driving dynamics of our AMG GT3 racing car with the everyday practicality of the AMG GT. Those with petrol in their veins will be thrilled by the radical longitudinal and lateral acceleration, the precise turn-in, and the sensational grip. We have modified all performance-relevant components and linked them together intelligently for maximum driving dynamics."
AMG says the GT R will be available in some parts of the world from November this year, with European deliveries slated for March 2017.