The new Ferrari 458 Speciale has landed in Australia showcasing an all-new benchmark in ultra performance for road and track driving. It becomes the sixth model in the company's lineup.
PerformanceDrive attended the official local launch presentation of the new model earlier today. Unfortunately, media weren't able to drive the new car but we were given a sample of its incredible engine sound. If there was ever a competition for which car sound induces the most goosebumps on one's body, the 458 Speciale would take the cake. It sounds sensational, quite literally.
The noise comes from a specially crafted and revised version of the 458's 4.5-litre naturally aspirated V8, with power bumped up to 445kW (up from 419kW) and torque remaining the same at 540Nm. It is the world's most powerful production naturally aspirated (NA) V8 ever made, and the most powerful NA V8 in terms of specific output; 98.8kW/litre.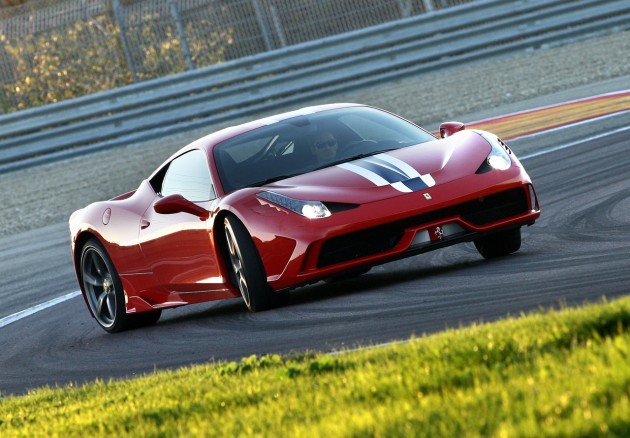 On the tarmac this translates to mind-blowing acceleration with 0-100km/h coming up in just 3.0 seconds and 0-200km/h in 9.1 seconds. It's also able to lap Ferrari's Fiorano test track in just 1:23.5 which is over one second quicker than the Enzo Ferrari hypercar.
During tests, Ferrari achieved cornering g-force of up to 1.33g, which is higher than any other road-going Ferrari. In other words, if you're after the ultimate track day car that has the potential to run rings around every other track-goer, the Speciale is ideal.
While the increase in power certainly helps, part of the performance also comes from weight reduction. Ferrari has stripped 90kg from the 458's weight, resulting in a total of just 1290kg. This gives it a barely believable power-to-weight ratio of 2.8kg/kW – like a super sports motorbike.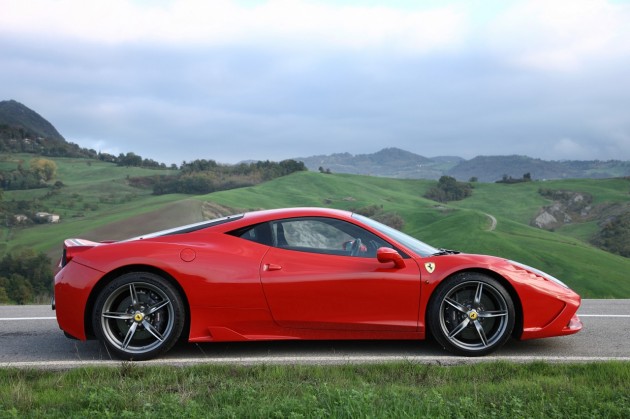 In terms of design, the Speciale receives a number of subtle and not-so-subtle tweaks over the regular 458. There's a racing stripe down the centre of the bonnet for one, but in further detail there's also new front and rear bumper bars which incorporate unique aero flaps that open and shut automatically for optimum airflow and downforce.
The Speciale also comes with bespoke alloy wheels, spoilers, and of course an interior fit for the occasion with lashings of Alcantara and carbon fibre, racing seats, and the bare minimum in terms of creature comforts.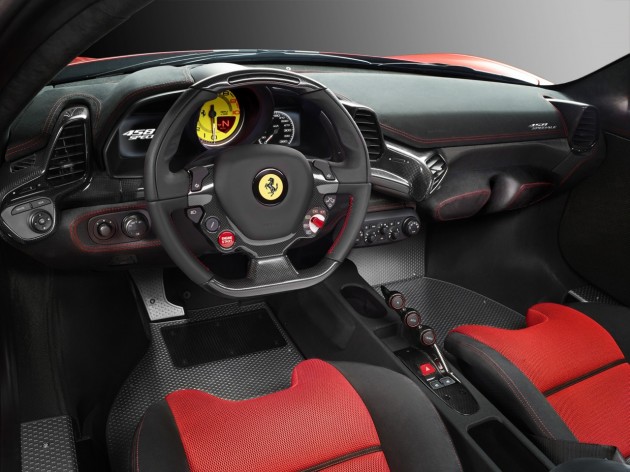 As a special treat, Ferrari Australasia set up a showcase hall at the presentation with four other exquisite models on display, including the 458 Speciale's predecessor, the 430 Scuderia.
The cars, along with the 458 Speciale, will be presented to 200 of Australia's most loyal Ferrari clients during an exclusive function tonight.
The Speciale enters the market with prices starting at $550,000 (excluding on-roads). Only a limited number will be available, with Ferrari doing its usual thing and hand-selecting the lucky punters. Deliveries are set to arrive by the middle of 2014.