While we've seen and heard plenty about the new Alfa Romeo Giulia QV performance sedan, details regarding the base models are yet to be released. That's about to change thanks to the Geneva Motor Show.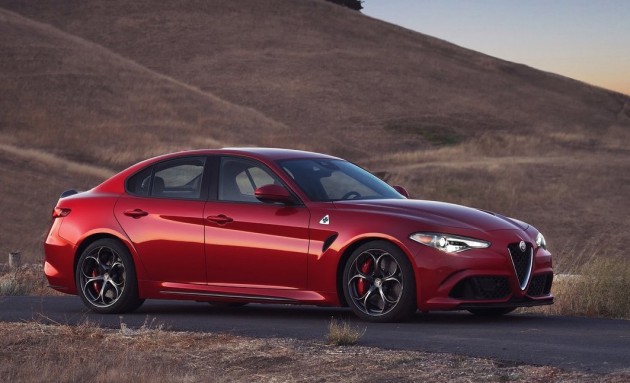 Alfa Romeo will reveal the base model versions of the new Giulia mid-size sedan at the Geneva show next month, including a range of turbocharged petrol and diesel variants to rival the popular mainstream BMW 3 Series and Mercedes C-Class equivalents.
It's understood Alfa will be offering a 2.0-litre turbo-petrol four-cylinder in the base model, presenting power outputs of around 134kW, 184kW, and 246kW, depending on the trim level.
For the diesel fans, a 2.2-litre turbo unit is set to be offered, producing around 100kW, 132kW, and a range-topping version producing about 154kW. Each of the diesel models are expected to bring very attractive fuel consumption figures.
Of course, at the top of the range is the Giulia Quadrifoglio (QV) shown above. It comes with a 2.9-litre twin-turbo V6 engine developed by Ferrari, producing a mega 375kW and 600Nm. The QV has already posted the quickest Nurburgring lap time for its class.
The launch of the Giulia has been delayed quite a bit, due to crash test results. It's understood Alfa has been re-engineering the stunning sedan to make sure it passes all of the usual tests. Market entry was scheduled for late last year but now it's been pushed back until about mid-2016. The 2.0-litre turbo-petrol versions will apparently launch even later in the year.
All of the details will be revealed at the Geneva show, which starts in just one week on March 1. Stay tuned for plenty of coverage.