Consumers in the US will be able to place orders for the upcoming Audi e-tron from September 17, the company has confirmed, the same day the new electric SUV is scheduled to be revealed.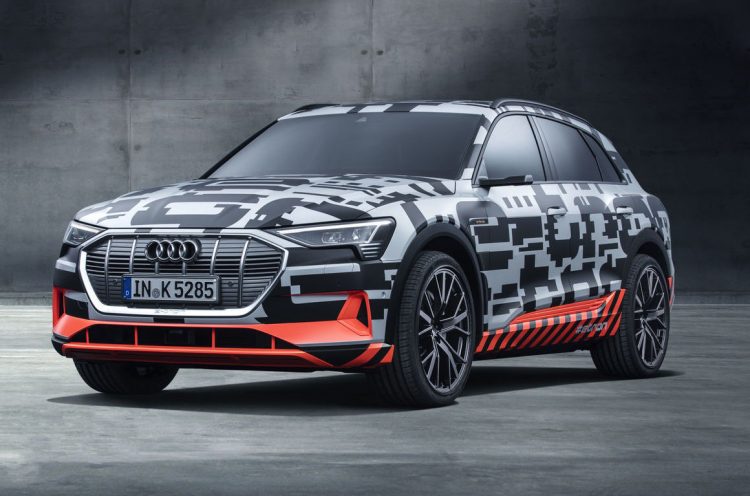 Yes, the much-anticipated Audi e-tron will finally be unveiled later in September, following a long-winded teaser campaign. It's understood the arrest of now-former Audi CEO Rupert Stadler caused some delays with the model's arrival.
The e-tron will be the company's first all-electric production vehicle. It'll be a large SUV, expected to size somewhere in between the Q5 and Q7, while its design will be inspired by the e-tron quattro concept car revealed in 2015.
We've all seen glimpses of the body design, with various preview photos showing prototypes running around in cities. The prototypes are wearing camouflage wrapping, but the general proportions and some of the details, such a full-width LED taillight, are clearly visible. Images of the interior (in pre-production form) also reveal an advanced and mostly digital cockpit.
Some specs have previously been confirmed through previews as well. We know the new model will come with a 95kWh lithium-ion battery located under the floor, with output to the wheels set to top 320kW and 800Nm. On a full charge, the Audi e-tron will offer a driving range of up to 400km.
Customers will be able to recharge via a number of systems, including a 150kW socket at a special charging station – currently 200 with plans to grow to 400 stations – or via an AC public station, or via a standard 11kW plug or optional 22kW unit. Speaking about the vehicle in a statement, Audi said:
"The fully electric e-tron is a five-passenger SUV aimed at the heart of the premium market. With progressive design, advanced electric and digital technology, the driving dynamics and build quality that customers expect of a premium vehicle, the e-tron lets consumers go electric without compromise."
A full debut is locked in for September 17 in San Francisco, and from that day US customers will be able to start configuring their orders and placing reservations. Showroom deliveries are scheduled to commence in the "first part" of 2019. Audi says it will be the first of three new electric vehicles to launch under the e-tron stable by 2020.