Porsche has confirmed it will unveil the new 991 Porsche 991 Targa at the 2014 North American International Auto Show in Detroit next week. Meanwhile, an apparent official image of the car has been leaked online.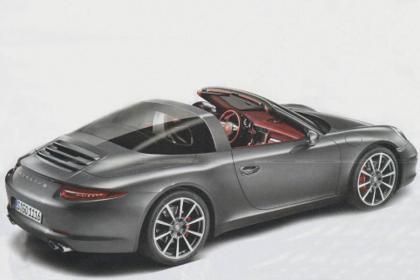 The 911 Targa has been an iconic variant in the 911 lineup for years. Fans can instantly recognise it with its coupe-like profile with a detachable roof section.
For the new 991 model, Porsche promises it will be inspired by the 1965 911 Targa, perhaps one of the most iconic versions to hit the market. Porsche said in a statement,
"Echoing the design of the original 911 Targa of 1965, the new model features the distinctive Targa bar, a movable center roof section and a wrap-around rear window combined with innovative technical solutions that make it a true modern classic."
Specific details including engine options and trim levels are yet to be revealed, however, it is highly likely to borrow powertrain layouts used in the regular coupe. This would include an entry-level 3.4-litre flat-six producing 257kW, up to a 3.8-litre Carrera S with 294kW.
More details will be uncovered at the Detroit show. It all starts on January 13.
In the meantime you can click play on the video below for a bit of a preview.